Integrating Enterprise Resource Planning with the Organizations' Management Structure for Decision-Making
Diler Atrushi

Department of Computer Science, University of Duhok, Duhok, Kurdistan Region – F.R. Iraq

http://orcid.org/0000-0001-5888-6447

Razwan M. Salah

(1) Department of Computer Science, University of Duhok, Duhok, Kurdistan Region – F.R. Iraq. (2) Department of Computer Science, Cihan University-Duhok, Duhok, Kurdistan Region – F.R. Iraq

http://orcid.org/0000-0001-6526-5534

Nawzat S. Ahmed

Department of Information Technology Management, Technical College of Administration, Duhok Polytechnic University, Kurdistan Region – F.R. Iraq
Keywords:
Decisions support system, Enterprise resource planning, Management information system, None-governmental organizations, System usability scale
Abstract
The unstable situation of some countries in Middle East have caused several crises. Many humanitarians Non-Governmental Organizations (NGOs) intervene to provide services to the affected groups. Good information management may have an effect on the project's activities and the accuracy of decisions making, especially for organizations that have limited resource. This paper presents the integration of a Management Information System (MIS) and its' impact in a local organization operating in Duhok City, Kurdistan Region-Iraq (KRI), namely voice of older people and family (VOP Fam). The goal is to increase the quality of humanitarian work through good decision making and data management. Based on the System Usability Scale (SUS) result, the system includes many components as an Enterprise Resource Planning (ERP) and is used by the organization staff for managing and organizing their activities. This system is essential to provide knowledge and can bring together the management and the organization's senior staff members to make decisions, collect the important information, and allow the donors and the staff of the NGO to follow work timely. The importance of the research lies in its contributes to highlighting the positive impact of integrating a computer-based information system (IS) in conducting humanitarian activities of NGOs in KRI. In addition, it will add a level of reliability to the NGO's activities data and make it trustworthy. This study has concluded that Integrating IS in organizations can help in decision-making based on analyzing the aggregated data, and prepare more accurate reports in a short period. 
Downloads
Download data is not yet available.
References
Abeysekera, R., 2011. Effects of System Integration in an Organization a Case Study Carried out in the Photo and Home Electronics Branch. Linköpings Universitet, Sweden.
Ada, Ş., and Ghaffarzadeh, M., 2015. Decision making based on management information system and decision support system. European Researcher, 93(4), pp.260-269.
Ali, M., Xie, Y., and Cullinane, J., 2013. A decision support system for ERP implementation in small and medium-sized enterprises. In: Sociotechnical Enterprise Information Systems Design and Integration. IGI Global, United States, pp.97-121.
Almazán, D.A., Tovar, Y.S., and Quintero, J.M., 2017. Influence of informationsystems on organizational results. Contaduría y Administración, 62(2), pp.321-338.
Asemi, A., Safari, A., and Zavareh, A.A., 2011. The role of management information system (MIS) and decision support system (DSS) for manager's decision making process. International Journal of Business and Management, 6(7), pp.164-173.
Atrushi, D., Ahmed, A., and Ahmed, N.S., 2017. The Development of an Inventory Management System using the Model-view-view Model Pattern. University ofnZakho, Iraq.
Bangor, A., Kortum, P., and Miller, J., 2009. Determining what individual SUS scores mean: Adding an adjective rating scale. JUS, 4(3), pp.114-123.
Brooke, J., 1996. A quick and dirty usability scale. Usability Evaluation in Industry, 189(194), pp.4-7. Available from: https://www.cui.unige.ch/isi/iclewiki/_media/ipm:test-suschapt.pdf. [Last accessed on 2020 Mar 01].
Dewett, T., 2002. The role of information technology in the organization: A review, model, and assessment. Journal of Management, 27, pp.313–346.
"Different Types of Information System and the Pyramid Model", No Date, Available from: http://www.chris-kimble.com/Courses/World_Med_MBA/Types-of-Information-System.html. [Last accessed on 2019 Jun 08].
Ferré, X., Windl, H., and Constantine, L., 2001. Usability engineering-usability basics for software developers. IEEE Software, 18(1), pp.22-29.
Hill, A.V., 2019. Structured Brainstorming. Clamshell Beach Press CBP WP 57-03, Minnesota.
Kohli, R., and Devaraj, S., 2004. Contribution of institutional DSS to organizational performance: Evidence from a longitudinal study. Decision Support Systems, 37(1), pp.103-118.
Maxwell, J.A., and Kaplan, B., 2005. For evaluating computer. In: Healthcare Information System. Springer, Germany, pp.30-56. Available from: https://www.link.springer.com/chapter/10.1007/0-387-30329-4_2.
Melville, N., and Kraemer, K., 2016. Review : Information technology and organizational performance : An integrative model of IT business value. MIS Quarterly, 28(2), pp.283-322.
Peppard, J., and Ward, J., 2004. Beyond strategic information systems: Towards an IS capability. Journal of Strategic Information Systems, 13(2), pp.167-194.
Sauro, J., 2013. 10 Things to Know About the System Usability Scale (SUS). Available from: https://www.measuringu.com/10-things-sus. [Last accessed on 2020 Mar 01].
Sigala, I.F., Kettinger, W.J., and Wakolbinger, T., 2020. Digitizing the field: Designing ERP designing systems for triple-a humanitarian supply chains. Journal of Humanitarian Logistics and Supply Chain Management, 10(2), pp.231-260.
Stair, R.M., and Reynolds, G., 2018. Information Systems. 13th ed. CENGAGE, United States.
Tripathi, K.P., 2011. Decision support system is a tool for making better decisions in the organization. Indian Journal of Computer Science and Engineering, 2(1), pp.112-117.
Umble, E.J., Haft, R.R., and Umble, M.M., 2003. Enterprise resource planning: Implementation procedures and critical success factors. European Journal of Operational Research, 146(2), pp.241-257.
Van Nieuwenhuyse, I., De Boeck, L., Lambrecht, M., and Vandaele, N.J., 2009. Advanced resource planning as a decision support module to ERP. Computers in Industry, 62(1), pp.1-8.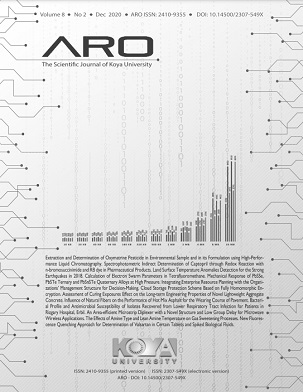 How to Cite
Atrushi, D., Salah, R. M. and Ahmed, N. S. (2020) "Integrating Enterprise Resource Planning with the Organizations' Management Structure for Decision-Making", ARO-THE SCIENTIFIC JOURNAL OF KOYA UNIVERSITY, 8(2), pp. 34-39. doi: 10.14500/aro.10649.
Copyright (c) 2020 Diler Atrushi, Razwan Mohmed Salah, Nawzat Sadiq Ahmed
This work is licensed under a Creative Commons Attribution-NonCommercial-ShareAlike 4.0 International License.
Authors who choose to publish their work with Aro agree to the following terms:
Authors retain the copyright to their work and grant the journal the right of first publication. The work is simultaneously licensed under a Creative Commons Attribution License [CC BY-NC-SA 4.0]. This license allows others to share the work with an acknowledgement of the work's authorship and initial publication in this journal.

Authors have the freedom to enter into separate agreements for the non-exclusive distribution of the journal's published version of the work. This includes options such as posting it to an institutional repository or publishing it in a book, as long as proper acknowledgement is given to its initial publication in this journal.

Authors are encouraged to share and post their work online, including in institutional repositories or on their personal websites, both prior to and during the submission process. This practice can lead to productive exchanges and increase the visibility and citation of the published work.
By agreeing to these terms, authors acknowledge the importance of open access and the benefits it brings to the scholarly community.