The Economics of Using Solar Energy: School Buildings in Saudi Arabia as a Case Study
Keywords:
Arar, photovoltaic energy, Renewable energy, School building design
Abstract
As a result of increasing population and building of new schools in Saudi Arabia, the demand for electricity is growing rapidly. In this context, the utilization of renewable energy resources such as solar energy appears to goal since it is abundant and holds huge ecological and economic promise. This study aims to provide a new entrance in school buildings' design and construction by studying the current situation of energy consumption, the possibility of using solar cells, and the economics of its exploitation in school buildings. Interviews were conducted in school buildings at different levels in Arar city as a case study to collect data on energy consumption. Furthermore, a base case school building was selected for studying detailed energy consumption, and then, photovoltaic (PV) energy was proposed to use the on-grid system in accordance with governmental regulations. The study concluded that the use of PV energy in school buildings is economically feasible in addition to that more incentive from the government is needed for wide penetration use in Kingdom Saudi Arabia.
Downloads
Download data is not yet available.
References
de Dear, R.J. and Bragerb, G.S., 2002. Thermal comfort in naturally ventilated buildings: Revisions to ASHRAE standard 55. Energy and Building, 34(6), pp.549-561.
Givoni, B., 1992. Comfort climate analysis and building design guidelines. Energy and Building, 11(1), pp.11-23.
Hafiz, M.A. and Fahad, A.A.,2016. Optimum selection of solar water heating (SWH) systems based on their comparative techno-economic feasibility study for the domestic sector of Saudi Arabia. Renewable and Sustainable Energy Reviews, 62, pp.336-349.
Hani, H.S., 2013. Auditing and analysis of energy consumption of an educational building in a hot and humid area. Energy Conversion and Management, 66, pp.143-152.
Harputlugil, T., 2017. Energy Efficient Building Design Development: A Retrospective Approach. International Symposium on Energy Efficiency in Buildings, Ankara, Turkey, pp.296-303.
Kats, G., 2006. Greening America's Schools: Costs and benefits. A Capital E Report. Available from: https://www.usgbc.org/drupal/legacy/usgbc/docs/ Archive/General/Docs2908.pdf.
Mukwaya, N.I. and Lating, P.O., 2014. Benchmarking Energy Efficiency of Commercial Office Buildings in Kampala. 2nd. International Conference on Advances in Engineering Sciences and Applied Mathematics, Istanbul, Turkey.
Nazhatulzalkis, J., Nurul, I.M., Mohd, F.K. and Suriani, N.A.W., 2015. Thermal comfort of a residential building in Malaysia at different micro-climates. Procedia Social and Behavioral Sciences, 170, pp.613-623.
Pazheri, F.R., 2014. Solar power potential in Saudi Arabia. International Journal of Engineering Research and Applications, 4(9), pp.171-174.
Pazheri, F.R., Malik, N.H., Al-Arainy, A.A., Essam, A.A., Ahmed, I. and Safoora, O.K., 2011. Smart Grid Can make Saudi Arabia Megawatt Exporter. IEEE Asia-Pacific Power and Energy Engineering Conference (APPEEC), Wuhan, China, pp.1-4.
Pazheri, F.R., Malik, N.H., Othman, M.F. and Babar, M., 2012. Optimum power dispatch problems: An overview. International Journal of Engineering Inventions, 1(6), pp.49-54.
Pazheri, F.R., Othman, M.F., Malik, N.H., Al-Arainy, A.A. and Khan, Y., 2014. Optimum Power Dispatch Management in Presence of Renewable Energy and Energy Storage. Energy and Power, Science and Technology Publishing Inc., Available from: https://www.researchgate.net/publication/264971511.
REN21, 2013. MENA Renewables Status Report. Renewable Energy Policy Network for the 21st Century.
Said, S.A.M., El-Amin, I.M. and Al-Shehri, A.M., 2008. Renewable Energy Potentials in Saudi Arabia (Lecture). Workshop. American university of Beirut, Faculty of Engineering and Architecture, Beirut.
van Hoof, J., Mazej, M. and Hensen, J.L.M., 2010. Thermal comfort: Research and practice. Frontiers in Bioscience, 15, pp.765-788.
Zell, E., Gasim, S., Wilcox, S., Katamoura, S., Stoffel, T., Engel-Coxa, J. and AlSubie, M., 2015. Assessment of solar radiation resources in Saudi Arabia. Energy and Building, 119(1), pp.422-438.
Zurigat, Y.H., Al-Hinai, H., Jubran, B.A. and Al-Masoudi, Y.S., 2003. Energy efficient building strategies for school buildings in Oman. International Journal of Energy Research, 27(3), pp.241-253.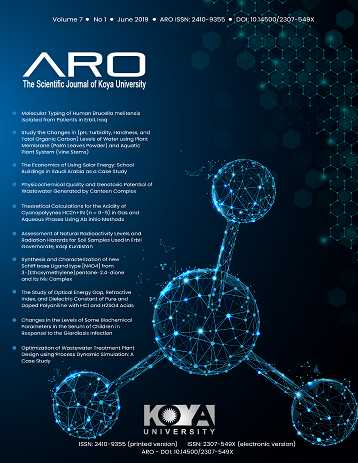 How to Cite
Alfaraidy, F. A. and Sulieman, H. A. (2019) "The Economics of Using Solar Energy: School Buildings in Saudi Arabia as a Case Study", ARO-THE SCIENTIFIC JOURNAL OF KOYA UNIVERSITY, 7(1), pp. 13-18. doi: 10.14500/aro.10461.
Copyright (c) 2019 Faris A. Alfaraidy, Hassan A. Sulieman,
This work is licensed under a Creative Commons Attribution-NonCommercial-ShareAlike 4.0 International License.
Authors who publish with this journal agree to the following terms:
Authors retain copyright and grant the journal right of first publication with the work simultaneously licensed under a Creative Commons Attribution License [CC BY-NC-SA 4.0] that allows others to share the work with an acknowledgement of the work's authorship and initial publication in this journal.
Authors are able to enter into separate, additional contractual arrangements for the non-exclusive distribution of the journal's published version of the work (e.g., post it to an institutional repository or publish it in a book), with an acknowledgement of its initial publication in this journal.
Authors are permitted and encouraged to post their work online (e.g., in institutional repositories or on their website) prior to and during the submission process, as it can lead to productive exchanges, as well as earlier and greater citation of published work (See The Effect of Open Access).