Economical and Structural Feasibility of Concrete Cellular and Solid Blocks in Kurdistan Region
Dilan M. Rostam

Department of Architectural Engineering, Faculty of Engineering, Koya University, University Park, Danielle Mitterrand Boulevard, Koya KOY45, Kurdistan Region

http://orcid.org/0000-0002-1187-311X

Taghreed K.M. Ali

Department of Architectural Engineering, Faculty of Engineering, Koya University, University Park, Danielle Mitterrand Boulevard, Koya KOY45, Kurdistan Region

http://orcid.org/0000-0001-8462-2744

Dawood S.S. Atrushi

Department of Civil Engineering, Duhok University, Kurdistan Region

http://orcid.org/0000-0003-0609-9964
Keywords:
Building standard codes, cellular concrete block, eurocode, structural feasibility.
Abstract
Cellular concrete blocks are the major building materials in Kurdistan Region in Iraq. This study is carried out to check the economical and structural feasibility. The integrity of the blocks as well as its industrial production process compared with local and international standards. Recommendations for the concrete block production have been given in this paper. Samples from 10 local factories of total 60 blocks have been collected and tested at Koya University Laboratory. The carried out tests covered the dimensions, compression strength and water absorption of the samples. The results of this research study were compared with the requirements of the Iraqi and European specifications. They showed that the products of all factories do not fulfil the specified requirements. The dimensions of specimens exhibited relatively high deviations with no recommended tolerances for dimensions of the blocks. The results analysis showed that the weight of the 400x200x200mm block size was about 20-23 kg and the size of the represented voids was about 60% of the volume. This study made some regulatory recommendations to standardise the concrete block production in the region.
Downloads
Download data is not yet available.
References
Ahmad, R., Malik, M.I., Jan, M.U., Ahmad, P., Seth, H. and Ahmad, J., 2014. Brick Masonry and Hollow Concrete Block Masonry – A Comparative Study, International Journal of Civil and Structural Engineering Research (IJCSER), 1(1), pp.14-21.
Barbosa, C., Lourenço, P. and Hanai, J., 2010. On the compressive strength prediction for concrete masonry prisms. Materials and Structures, 43(3), pp.331-344.
Cavette, C., 2007. How concrete block is made - material, manufacture, used, components, structure, steps, machine. [Online] Available at: http://www.madehow.com/Volume-3/Concrete-Block.html [Accessed 17 Nov. 2015].
CBA UK, 2007. Aggregate Concrete Blocks, A Guide to Selection & Specification; Cellular Blocks, Concrete Block Association, [online] Available at: http://www.thakeham.co.uk/images/upload/docum/Block%20Selector.pdf [Accessed 2 Nov. 2015].
CBA UK, 2008. Understanding BS EN 771-3: Aggregate concrete masonry units, [online] Available at: http://www.cba-blocks.org.uk/downloads/CBA%
Understanding%20EN%20771%2009.pdf [Accessed 17 Nov. 2015].
CCI, 2011. How to make concrete bricks and blocks, midrand, South Africa, [online] Available at: http://www.afrisam.co.za/media/13734/how_to_make_
concrete_bricks_and_blocks.pdf [Accessed 20 Sep. 2015].
Chandra, D. and Bhise, N., 1994. Solid concrete block masonry scheme. Roorkee, India: Central Building Research Institute, [online] Available at: http://krc.cbri.res.in/dspace/bitstream/123456789/264/1/BRN69.pdf [Accessed 17 Nov. 2015].
Collins, M., 2015. Concrete Technology & Construction, The Concrete Society, [online] Ict.concrete.org.uk. Available at:
http://ict.concrete.org.uk/exams/qualifications.asp [Accessed 17 Nov. 2015].
DeVekey, R.C., 2001. Bricks, blocks and masonry made from aggregate concrete: performance requirements, BRE Centre for Whole Life Construction and Conservation, BRE Digest 460 Part 1.
GOI (Government of India), 2012. Techno economic feasibility report on concrete hollow & solid block, Building Materials and Technology PromotionCouncil Ministry of Housing & Urban Poverty Alleviation Government of India, New Delhi
Hornbostel, C., 1991. Construction Materials, 2nd Edition, John Wiley and Sons, Inc.
Iraqi Standard Specification (ISS), 1987. ISS No. 1077, Load-Bearing Concrete Masonry Units,
Johannessen, B., 2008. Building rural roads, chapter 12, 1st ed., Bangkok, Thailand: ILO.
Kishore, E.K., 2011. Testing of Concrete Blocks. [Online] Available at: http://www.engineeringcivil.com/testing-of-concrete-blocks.html [Accessed 2 Nov. 2015].
Koski, J.A., 1992. How Concrete Block Are Made, Masonry Construction, pp.374-377.
Kosmatka, S.H., Kerkhoff, B., and Panarese, W.C., 2003. Design and control of concrete mixtures EB001, 14 edn., Skokie, Illinois, USA: Portland Cement Association.
Neville, A.M., 1996. Properties of Concrete. (4th ed.). England: Wiley.
Pluijm, R.V.D., 2009. EUROCODE 6 Design of masonry structures, Dissemination of information for training – Brussels, 2-3 April 2009 [online] Available at: http://eurocodes.jrc.ec.europa.eu/doc/WS2009/2_6_Pluijm.pdf [Accessed 17 Aug. 2015].
Siram, K.K.B., 2012. Cellular Lightweight Concrete Blocks as a Replacement of Burnt Clay Bricks, International Journal of Engineering and Advanced Technology (IJEAT), ISSN: 2249–8958, 2(2).
Sturgeon, G., 2013. Metric Technical Manual. 16th ed. [ebook] CCMPA, Region 6 of the National Concrete Masonry Association, p.Chapter 4. Available at: http://www.ccmpa.ca/wp-content/uploads/2012/02/Final2013 Sec4.pdf [Accessed 1 Jul. 2015].
Zhang, S. and Zong, L., 2014. Evaluation of Relationship between Water Absorption and Durability of Concrete Materials. Advances in Materials Science and Engineering, 2014, pp.1-8.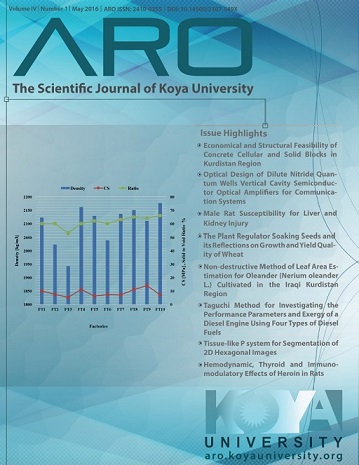 How to Cite
Rostam, D. M., Ali, T. K. and Atrushi, D. S. (2016) "Economical and Structural Feasibility of Concrete Cellular and Solid Blocks in Kurdistan Region", ARO-THE SCIENTIFIC JOURNAL OF KOYA UNIVERSITY, 4(1), pp. 1-7. doi: 10.14500/aro.10113.
Copyright (c) 2016 Dilan M. Rostam, Taghreed K.M. Ali, Dawood S.S. Atrushi
This work is licensed under a Creative Commons Attribution-NonCommercial-ShareAlike 4.0 International License.
Authors who publish with this journal agree to the following terms:
Authors retain copyright and grant the journal right of first publication with the work simultaneously licensed under a Creative Commons Attribution License [CC BY-NC-SA 4.0] that allows others to share the work with an acknowledgement of the work's authorship and initial publication in this journal.
Authors are able to enter into separate, additional contractual arrangements for the non-exclusive distribution of the journal's published version of the work (e.g., post it to an institutional repository or publish it in a book), with an acknowledgement of its initial publication in this journal.
Authors are permitted and encouraged to post their work online (e.g., in institutional repositories or on their website) prior to and during the submission process, as it can lead to productive exchanges, as well as earlier and greater citation of published work (See The Effect of Open Access).