Identification DNA Methylation Change of ABCC8 Gene in Type 2 Diabetes Mellitus as Predictive Biomarkers
Harem O. Smail

(1) Department of Biology, Faculty of Science and Health, Koya University, Koya KOY45, Kurdistan Region-F.R. Iraq . (2) PhD student Department of Biology, College of Science, University of Sulaimani, Sulaymanyah, Iraq

https://orcid.org/0000-0001-9867-4289

Dlnya A. Mohamad

Department of Biology, College of Science, University of Sulaimani, Sulaymanyah,Kurdistan Region – F.R. Iraq

https://orcid.org/0000-0002-4201-0501
Keywords:
ABCC8 gene, Diabetes mellitus, DNA methylation, Methylated primer, Unmethylated primer
Abstract
Type 2 diabetes mellitus is the most common chronic endocrine disorder that affecting 5%–10% of adults globally. Recently, the disease has rapidly spread throughout the Kurdistan Region. This study investigates DNA methylation status in the ABCC8 gene among the study population, and it possibly used as a biomarker. One hundred and thirteen individuals were included in this study, and they were divided into three categories (47 diabetes, 36 prediabetic, and 30 controls). Blood samples were collected to investigate DNA methylation status in patients who attended private clinical sectors in Koya city, Kurdistan Region of Iraq, between August and December 2021. Methylation-specific PCR (MSP) uses paired primers for each methylated and unmethylated region. In addition, the X2 Kruskal–Wallis statistical and Wilcoxon signed-rank tests were run with a significance level of p 0.05. In comparison to the healthy group, hypermethylation of DNA is detected in the promoter region of diabetes and prediabetes. In addition, age, gender, BMI, alcohol use, family history, and physical activity all influence the degree of DNA methylation in people who have had coronavirus illness. The abovementioned findings suggest that DNA methylation alterations in the ABCC8 promoter region might be exploited as a possible predictive biomarker for type 2 diabetes mellitus diagnosis.
Downloads
Download data is not yet available.
References
American Diabetes Association, 2019. Classification and diagnosis of diabetes: standards of medical care in diabetes 2019. Diabetes Care, 42, pp.S13-S28.
Asiimwe, D., Mauti, G.O. and Kiconco, R., 2020. Prevalence and risk factors associated with Type 2 diabetes in elderly patients aged 45-80 years at Kanungu District. Journal of Diabetes Research, 2020, p.5152146.
Boks, M.P., Derks, E.M., Weisenberger, D.J., Strengman, E., Janson, E., Sommer, I.E., Kahn, R.S. and Ophoff, R.A., 2009. The relationship of DNA methylation with age, gender and genotype in twins and healthy controls. PLoS One, 4, p.e6767.
Dayeh, T., Tuomi, T., Almgren, P., Perfilyev, A., Jansson, P.A., de Mello, V.D., Pihlajamäki, J., Vaag, A., Groop, L., Nilsson, E. and Ling, C., 2016. DNA methylation of loci within ABCG1 and PHOSPHO1 in blood DNA is associated with future Type 2 diabetes risk. Epigenetics, 11, pp.482-488.
Dayeh, T., Volkov, P., Salö, S., Hall, E., Nilsson, E., Olsson, A.H., Kirkpatrick, C.L., Wollheim, C.B., Eliasson, L., Rönn, T. and Bacos, K., 2014. Genome-wide DNA methylation analysis of human pancreatic islets from Type 2 diabetic and non-diabetic donors identifies candidate genes that influence insulin secretion. PLoS Genetics, 10(3), p.e1004160.
de Mello, V.D.F., Pulkkinen, L., Lalli, M., Kolehmainen, M., Pihlajamäki, J. and Uusitupa, M., 2014. DNA methylation in obesity and Type 2 diabetes. Annals of Medicine, 46(3), pp.103-113.
Florath, I., Butterbach, K., Heiss, J., Bewerunge-Hudler, M., Zhang, Y., Schoettker, B. and Brenner, H., 2016. Type 2 diabetes and leucocyte DNA methylation: an epigenome-wide association study in over 1,500 older adults. Diabetologia, 59(1), pp.130-138.
Gillberg, L. and Ling, C., 2015. The potential use of DNA methylation biomarkers to identify risk and progression of Type 2 diabetes. Frontiers in Endocrinology, 6, p.43.
Gopalan, S., Carja, O., Fagny, M., Patin, E., Myrick, J.W., McEwen, L.M., Mah, S.M., Kobor, M.S., Froment, A., Feldman, M.W. and Quintana-Murci, L., 2017. Trends in DNA methylation with age replicate across diverse human populations. Genetics, 206, pp.1659-1674.
Haghverdizadeh, P., Haerian, M.S., Haghverdizadeh, P. and Haerian, B.S., 2014. ABCC8 genetic variants and risk of diabetes mellitus. Gene, 545, pp.198-204.
Hanaei, S., Sanati, G., Zoghi, S., Gharibzadeh, S., Ziaee, V. and Rezaei, N., 2020. The status of FOXP3 gene methylation in pediatric systemic lupus erythematosus. Allergologia et Immunopathologia, 48, pp.332-338.
Herman, J.G., Graff, J.R., Myöhänen, S.B.D.N., Nelkin, B.D. and Baylin, S.B., 1996. Methylation-specific PCR: A novel PCR assay for methylation status of CpG islands. Proceedings of the National Academy of Sciences, 93, pp.9821-9826.
Jang, H.S., Shin, W.J., Lee, J.E. and Do, J.T., 2017. CpG and non-CpG methylation in epigenetic gene regulation and brain function. Genes, 8(6), p.148.
Jones, M.J., Goodman, S.J. and Kobor, M.S., 2015. DNA methylation and healthy human aging. Aging Cell, 14(6), pp.924-932.
Jones, P.A., 2012. Functions of DNA methylation: islands, start sites, gene bodies and beyond. Nature Reviews Genetics, 13(7), pp.484-492.
Matharoo, K., Arora, P. and Bhanwer, A.J.S., 2013. Association of adiponectin (AdipoQ) and sulphonylurea receptor (ABCC8) gene polymorphisms with Type 2 Diabetes in North Indian population of Punjab. Gene, 527(1), pp.228-234.
McCartney, D.L., Stevenson, A.J., Walker, R.M., Gibson, J., Morris, S.W., Campbell, A., Murray, A.D., Whalley, H.C., Porteous, D.J., McIntosh, A.M. and
Evans, K.L., 2018. Investigating the relationship between DNA methylation age acceleration and risk factors for Alzheimer's disease. Alzheimers and Dementia: Diagnosis, Assessment and Disease Monitoring, 10, pp.429-437.
Smail, H.O., 2016. Qualitative and Quantitative Identification of DNA Methylation Changes in Blood of the Breast Cancer Patients. (MSC Thesis,
University of Sulaimani). Smail, H.O., 2019. The epigenetics of diabetes, obesity, overweight and cardiovascular disease. AIMS Genetics, 6, pp.36-45.
Willmer, T., Johnson, R., Louw, J. and Pheiffer, C., 2018. Blood-based DNA methylation biomarkers for Type 2 diabetes: Potential for clinical applications. Frontiers in Endocrinology, 9, p.744.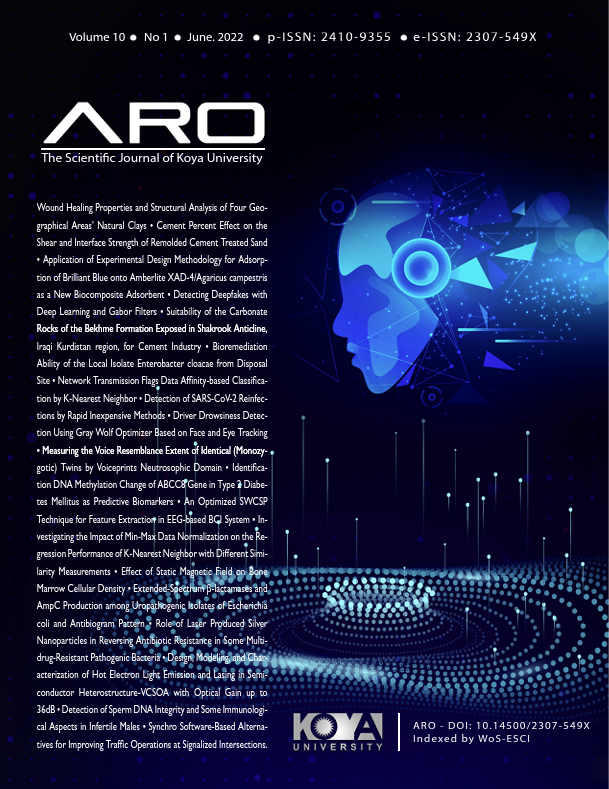 How to Cite
Smail, H. O. and Mohamad, D. A. (2022) "Identification DNA Methylation Change of ABCC8 Gene in Type 2 Diabetes Mellitus as Predictive Biomarkers", ARO-THE SCIENTIFIC JOURNAL OF KOYA UNIVERSITY, 10(1), pp. 63-67. doi: 10.14500/aro.10947.
Copyright (c) 2022 Harem O. Smail, Dlnya A. Mohamad
This work is licensed under a Creative Commons Attribution-NonCommercial-ShareAlike 4.0 International License.
Authors who publish with this journal agree to the following terms:
Authors retain copyright and grant the journal right of first publication with the work simultaneously licensed under a Creative Commons Attribution License [CC BY-NC-SA 4.0] that allows others to share the work with an acknowledgement of the work's authorship and initial publication in this journal.
Authors are able to enter into separate, additional contractual arrangements for the non-exclusive distribution of the journal's published version of the work (e.g., post it to an institutional repository or publish it in a book), with an acknowledgement of its initial publication in this journal.
Authors are permitted and encouraged to post their work online (e.g., in institutional repositories or on their website) prior to and during the submission process, as it can lead to productive exchanges, as well as earlier and greater citation of published work (See The Effect of Open Access).