Molecular Typing of Human Brucella melitensis Isolated from Patients in Erbil, Iraq
Keywords:
Brucellosis, Biochemical test, Brucella melitensis, Polymerase chain reaction
Abstract
Brucellosis is a reemerging infectious zoonotic disease of worldwide importance. In the Kurdistan Region of Iraq, it is a widely spread disease and remains a challenging health problem. This disease is mainly caused by Brucella melitensis, in human. For confirmation of these isolates, a study was performed, by isolation and molecular typing of Brucella Spp. from human patients in Rizgari Hospital at Erbil city (Iraq), between March 2014 and November 2016. One hundred sixty seven samples of blood collected from patients suspected for brucellosis, one hundred twenty one samples from these were recorded as genus of Brucella, using biochemical test and confirmed by applying polymerase chain reaction (PCR), using genus specific primer for omp31 gene which was specific for B. melitensis. These results support using molecular method that based on PCR as diagnostic test for the control of brucellosis in Erbil. Further studies are needed from different geographical areas of the country with different level of endemicity to plan and execute control strategies against human brucellosis.
Downloads
Download data is not yet available.
References
Acha, N.P. and Zyfres, B.S., 2003. Zoonoses and Communicable Diseases Common to Man and Animals. 3rd ed., Vol. 1. Pan American Health Organization (PAHO), Washington, DC, pp.63-65.
Affi, M.M., Abdul-Raouf, U.M., El-Bayoumy, E.M., Montasser, A.M. and Mohamad, H.A., 2011. Isolation and biotyping of Brucella melitensis from upper Egypt. Journal of American Science, 7(3), pp.50-60.
Al-Sanjary, R.A., Mohammed, H.A. and Dahl, M.O., 2014. Using polymerase chain reaction technique (PCR) for detection Brucella melitensis in aborted ewes' milk in nineveh, Iraq. Assiut Veterinary Medical Journal, 60(140), pp.155-159.
Baddour, M.M. and Alkhalifa, D.H., 2008. Evaluation of three polymerase chain reaction techniques for detection of brucella DNA in peripheral human blood. Canadian Journal of Microbiology, 54, pp.352-357.
Bricker, B.J., 2002. PCR as a diagnostic tool for brucellosis. Veterinary Microbiology, 90, pp.435-446.
Bricker, B.J., Ewalt, D.R., MacMillan, A.P., Foster, G. and Brew, S., 2000. Molecular characterization of brucella strains isolated from marine mammals. Journal of Clinical Microbiology, 62, pp.38-48.
Chain, P.S., Comerci, D.J., Tolmasky,M.E., Larimer, F.W., Malfatti, S.A., Vergez, L.M., Aguero, F., Land, M.L., Ugalde, R.A. and Garcia, E., 2005. Whole-genome analyses of speciation events in pathogenic brucellae. Infection and Immunity, 73, pp.8353-8361.
Elfaki, M.G., Al-Hokail, A.A., Nakeeb, S.M. and Al-Rabiah, F.A., 2005. Evaluation of culture, tube agglutination, and PCR methods for the diagnosis of brucellosis in humans. Medical Science Monitor, 11(11), pp.69-74.
Erdenlig, S. and Sen, A., 2000. Isolation and biotyping of Brucella species in aborted sheep fetuses. Pendik Veterinary Microbiology, 31, pp.31-42.
Gaff, D., 2016. Brucellosis in Iraqi Kurdistan: An overview. Journal of Entomology and Zoology Studies, 4(4), pp.1113-1115.
Gee, J.E., De, B.K., Levett, P.N., Whitney, A.M., Novak, R.T. and Popovic, T., 2004. Use of 16 S rRNA genes sequencing for rapid confirmatory identification of brucella isolates. Journal of Clinical Microbiology, 42, pp.3649-3654.
Greenfield, R.A., Drevets, D.A., Machado, L.J., Voskuhl, G.W., Cornea, P. and Bronze, M.S., 2002. Bacterial pathogens as biological weapons and agents of bioterrorism. American Journal of the Medical Sciences, 323, pp.299-315.
Habtamu, T.T., Rathore, R., Dhama, K. and Karthik, K., 2013. Isolation and molecular detection of Brucella melitensis from disease outbreak in sheep and B. abortus from cattle farm by is711 and omp2a gene based PCR. International Journal of Current Research, 5(7), pp.1920-1925.
Hoover, D.L. and Friedlander, A., 2010. Brucellosis. In: Zajtchuk, R., editors. Textbook of Military Medicine: Medical Aspects of Chemical and Biological Warfare. US Department of the Army, Surgeon General, and the Borden Institute, Washington, DC, pp.513-521.
Imaoka, K., Kimura, M., Suzuki, M., Kamiyama, T. and Yamada, A., 2007. Simultaneous detection of the genus brucella by combinatorial PCR. Japanese Journal of Infectious Diseases, 60, pp.137-139.
Mantur, B., Parande, A., Amarnath, S., Patil, G., Walvekar, R., Desai, A., Parande, M., Shinde, R., Chandrashekar, M. and Patil, S. 2010. ELISA versus conventional methods of diagnosing endemic brucellosis. American Journal of Tropical Medicine and Hygiene, 83, pp.314-318.
Mugizi, D.R., Muradrasoli, S., Boqvist, S., Erume, J., Nasinyama, G.W., Waiswa, C., Mboowa, G., Klint, M. and Magnusson, U., 2015. Isolation and molecular characterization of brucella isolates in cattle milk in Uganda. BioMed Research International, 2015, pp.9-18.
Navarro, E., Casao, M.A. and Solera, J., 2004. Diagnosis of human brucellosis using PCR. Expert Review of Molecular Diagnostics, 4, pp.115-123.
Nielsen, K., Smith, P., Widdison, J., Gall, D., Kelly, L., Kelly, W. and Nicoletti, P., 2004. Serological relationship between cattle exposed to Brucella abortus, Yersinia enterocolitica O: 9 and Escherichia coli O157: H7. Veterinary Microbiology, 100, pp.25-30.
Pappas, G. and Memish, Z.A., 2007. Brucellosis in the Middle East: A persistent medical, socioeconomic and political issue. Journal of chemotherapy, 19, pp.243-248.
Probert, W.S., Schrader, K.N., Khuong, N.Y., Bystrom, S.L. and Graves, M.H., 2004. Real-time multiplex PCR assay for detection of Brucella Spp., B. abortus, and B. melitensis. Journal of Clinical Microbiology, 42, pp.1290-1293.
Rees, R.K., Graves, M., Caton, N., Ely, J.M. and Probert, W.S., 2009. Single tube identification and strain typing of Brucella melitensis by multiplex PCR. Journal of Microbiological Methods, 78, pp.66-70.
Scholz, H.C., Revilla-Fernández, S., Al Dahouk, S., Hammerl, J.A., Zygmunt, M.S., Cloeckaert, A., Koylass, M., Whatmore, A.M., Blom, J., Vergnaud, G. and Witte, A., 2016. Brucellavulpis Sp. Nov., Isolated from mandibular lymph nodes of red foxes (Vulpes vulpes). International Journal of Systematic and Evolutionary Microbiology, 66(5), pp.2090-2098.
Seleem, M.N., Boyle, S.M. and Sriranganathan, N., 2010. Brucellosis: A re-emerging zoonosis. Veterinary Microbiology, 140, pp.392-398.
Shalini, T., Jasbir, S.B., Randhir, S., Jatinder, P.S., Anil, K. and Arorac, N.K., 2018. Quantitative polymerase chain reaction based quantification of brucella DNA in serum of pre- and post-therapeutic occupationally exposed infected human population. Journal of Infection and Public Health, 11(4), pp.514-520.
Tille, P.M., 2017. Bailey and Scott's Diagnostic Microbiology. 14th ed. Mosby Elsevier, Philadelphia, PA, pp.470-474.
Unver, A., Erdogan, H.M., Atabay, H.I., Sahin, M. and Celebi, O., 2006. Isolation, identification, and molecular characterization of Brucella melitensis from aborted sheep fetuses in Kars, Turkey. Revue de Medecine Veterinaire, 157, pp.42-46.
Valdezate, S., Cervera, I., Hernández, P., Navarro, A. and Saéz-Nieto, J.A., 2007. Characterisation of outbreaks of human brucellosis and sporadic cases by the use of hyper-variable octameric oligonucleotide fingerprint (HOOF) variable number tandem repeats. Clinical Microbiology and Infection, 13, pp.887-892.
Wilson, K., 1990. Preparation of genomic DNA from bacteria, 241-245. In: Ausubel, F.M., Brent, R., Kimgston, R.E., Moore, D.D. and Struhl, K., editors. Current Protocols in Molecular Biology. Greene Publishing Associates, Inc., and John Wiley and Sons, Inc., New York.
Ying, W., Zhanli, W., Yaxian, Z., Liyun, B., Yue, Z., Chunfang, L. and Hui, Y., 2014. Polymerase chain reaction–based assays for the diagnosis of human brucellosis. Annals of Clinical Microbiology and Antimicrobials, 13, pp.31-43.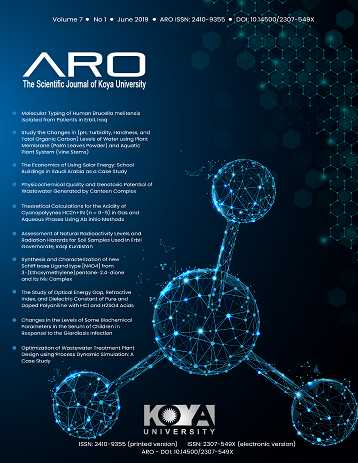 How to Cite
Amin, B. K. and Hassan, K. I. (2019) "Molecular Typing of Human Brucella melitensis Isolated from Patients in Erbil, Iraq", ARO-THE SCIENTIFIC JOURNAL OF KOYA UNIVERSITY, 7(1), pp. 1-4. doi: 10.14500/aro.10306.
Copyright (c) 2019 Bushra K. Amin, Khulod I. Hassan
This work is licensed under a Creative Commons Attribution-NonCommercial-ShareAlike 4.0 International License.
Authors who publish with this journal agree to the following terms:
Authors retain copyright and grant the journal right of first publication with the work simultaneously licensed under a Creative Commons Attribution License [CC BY-NC-SA 4.0] that allows others to share the work with an acknowledgement of the work's authorship and initial publication in this journal.
Authors are able to enter into separate, additional contractual arrangements for the non-exclusive distribution of the journal's published version of the work (e.g., post it to an institutional repository or publish it in a book), with an acknowledgement of its initial publication in this journal.
Authors are permitted and encouraged to post their work online (e.g., in institutional repositories or on their website) prior to and during the submission process, as it can lead to productive exchanges, as well as earlier and greater citation of published work (See The Effect of Open Access).