Ultrasound-assisted Synthesis of Some New Curcumin Analogues and Their Corresponding Pyrazoline Derivatives
Farouq E. Hawaiz

Department of Chemistry, College of Education, Salahaddin University-Erbil, Kurdistan Region

http://orcid.org/0000-0001-8617-747X

Dlzhen A. Shekh Omer

Department of Chemistry, College of Education, Salahaddin University-Erbil, Kurdistan Region
Keywords:
Curcumin, Mono carbonyl curcumins, Pyrazoline, Ultrasound.
Abstract
In this work, a series of new curcumin mono-carbonyl analogs containing benzyloxy moieties and their pyrazoline derivatives were synthesized using a green method (ultrasound assisted technique) along with traditional method.  The work also includes a comparison between the two methods together and with literature.  Remarkable improvements were achieved by dropping down the reaction time from hours to minutes and obtaining higher yields of the products. 
Downloads
Download data is not yet available.
References
Ammon, H.P.T., Safayhi, H., Mack, T. and Sabieraj, J., 1993. Mechanism of antiinflammatory actions of curcumine and boswellic acids. Journal of ethnopharmacology, 38(2-3), pp.105-112.
Bayomi, S.M., El-Kashef, H.A., El-Ashmawy, M.B., Nasr, M.N., El-Sherbeny, M.A., Badria, F.A., Abou-Zeid, L.A., Ghaly, M.A. and Abdel-Aziz, N.I., 2013. Synthesis and biological evaluation of new curcumin derivatives as antioxidant and antitumor agents. Medicinal Chemistry Research, 22(3), pp.1147-1162.
Chen, G.F., Li, J.T., Duan, H.Y. and Li, T.S., 2004. Improved ultrasound-induced synthesis 1, 5-diaryl-1, 4-pentadien-3-ones. Chem. J. Int, 6, pp.7-10.
Das, M.K. and Chakraborty, T., 2016. Curcumin nano-theraputics for cancer chemotherapy: promises and challenges for the futures. European Journal of Pharmaceutical and Medical Research. 3(3),177-191.
Din, Z.U., dos Santos, A., Trapp, M.A., Lazarin-Bidóia, D., Garcia, F.P., Peron, F., Nakamura, C.V. and Rodrigues-Filho, E., 2016. Curcumin inspired synthesis of unsymmetrical diarylpentanoids with highly potent anti-parasitic activities: in silico studies and DFT-based stereochemical calculation. MedChemComm, 7(5), pp.820-831.
El-Rayyes, N. and Al-Johary, A.J.A., 1985. Heterocycles. 7. Synthesis of new pyrazolines. Journal of Chemical and Engineering Data, 30(4), pp.500-502.
Grynkiewicz, G. and Slifirski, P., 2012. Curcumin and curcuminoids in quest for medicinal status. Acta Biochimica Polonica, 59(2), pp.2-9.
Konatham, S., Kumar, P. and Aukunuru, J., 2010. J. Synthesis and screening of antidiabetic activity of some novel curcumin analogues. J Int Biosciences, 1(2), pp.1-6.
Handayani, S., Matsjeh, S., Anwar, C., Atun, S. and Fatimah, I., 2012. Novel Synthesis of 1, 5-dibenzalacetone Using NaOH/ZrO2-Montmorillonite as Cooperative Catalyst. Synthesis, 149(151.6), p.198.
Hawaiz, F.E., Omer, S.A. and Ahmad, M.S., 2012. Synthesis and Spectroscopic Investigation of Some New Chalcones and their transformation to pyrazoline derivatives. Journal of Kirkuk University–Scientific Studies, 7(1), 50-66.
Hawaiz, F.E and Samad, M.K., 2012. Synthesis and Spectroscopic Characterization of Some New Biological Active Azo–Pyrazoline Derivatives.Journal of Chemistry, 9(3), pp.1613-1622.
Hussein, F.H., Hawaiz, F.E. and Azeez, H.J., 2013. Synthesis and Characterization of Some New Pyrazoline Derivatives Derived From 2, 4-Dihydroxybenzaldehyde. International Journal of Chemical and Environmental Engineering, , 4(6), 373-377.
Hussein, A.J., 2014. Synthesis and Characterization of Some New Pyrazoline Compounds Derived from Azo-Benzaldehyde. Journal of Pure and Applied Sciences, 27(1), pp.51-58.
Lei, Y.J., Bi, Y. and Jie, O.Y., 2011, October. Synthesis of some Curcumin Analogues under Ultrasound Irradiation. In Advanced Materials Research. Vol. 332, pp. 1623-1626.
Li, Y., Wang, P., Chen, X., Hu, J., Liu, Y., Wang, X. and Liu, Q., 2016. Activation of microbubbles by low-intensity pulsed ultrasound enhances the cytotoxicity of curcumin involving apoptosis induction and cell motility inhibition in human breast cancer MDA-MB-231 cells. Ultrasonics Sonochemistry, 33, pp.26-36.
Ngaini, Z., Haris, S.M., Hussain, H. and Kamaruddin, K., 2009. 3-(-4 alkyloxyphenyl)-1-(2-hydroxyphenyl) prop-2-en-1-one,(E)-3-(4-alkyloxyphenyl)-1-(4-hydroxyphenyl) prop-2-en-1 one. World J. Chemistry,4(1), pp.9-14.
Manohar, S., Khan, S.I., Kandi, S.K., Raj, K., Sun, G., Yang, X., Molina, A.D.C., Ni, N., Wang, B. and Rawat, D.S., 2013. Synthesis, antimalarial activity and cytotoxic potential of new monocarbonyl analogues of curcumin.Bioorganic & medicinal chemistry letters, 23(1), pp.112-116.
Paban, H. J. J.,(1937). Curcumin synthesis, Rec. Trav. Chim. Pays Bas, 83, 167-172.
Pan, Z., Chen, C., Zhou, Y., Xu, F. and Xu, Y., 2016. Synthesis and Cytotoxic Evaluation of Monocarbonyl Analogs of Curcumin as Potential Anti‐Tumor Agents. Drug development research, 77(1), pp.43-49.
Pinto, D.C., Silva, A., Cavaleiro, J.A. and Elguero, J., 2003. New bis (chalcones) and their transformation into bis (pyrazoline) and bis (pyrazole) derivatives. European Journal of Organic Chemistry, (4), pp.747-755.
Priyadarsini, K.I., 2014. The chemistry of curcumin: from extraction to therapeutic agent. Molecules, 19(12), pp.20091-20112.
Samad, M.K., Chawishli, L.H. and Hussein, A.J., 2015. Synthesis and Spectroscopic Characterization of Some Diazodibenzyloxy Pyrazolines from Some Diazodibenzyloxy Chalcones. Journal of Pure and Applied Sciences,27(2), pp.53-60.
Selvam, C., Jachak, S.M., Thilagavathi, R. and Chakraborti, A.K., 2005. Design, synthesis, biological evaluation and molecular docking of curcumin analogues as antioxidant, cyclooxygenase inhibitory and anti-inflammatory agents. Bioorganic & medicinal chemistry letters, 15(7), pp.1793-1797.
Shah, S.A.M., 2010. Aldol condensation of 2, 5-dimethoxybenzaldehyde with actone under basic conditions. Oriental Journal of Chemistry, 26(1), pp.11-14.
Shim, J.S., Kim, D.H., Jung, H.J., Kim, J.H., Lim, D., Lee, S.K., Kim, K.W., Ahn, J.W., Yoo, J.S., Rho, J.R. and Shin, J., 2002. Hydrazinocurcumin, a novel synthetic curcumin derivative, is a potent inhibitor of endothelial cell proliferation. Bioorganic & medicinal chemistry, 10(8), pp.2439-2444.
Shishodia, S., Sethi, G. and Aggarwal, B.B., 2005. Curcumin: getting back to the roots. Annals of the New York Academy of Sciences, 1056(1), pp.206-217.
Singh, S. and Aggarwal, B.B., 1995. Activation of transcription factor NF-κB is suppressed by curcumin (diferuloylmethane). Journal of Biological Chemistry, 270(42), pp.24995-25000.
Trilleras, J., Polo, E., Quiroga, J., Cobo, J. and Nogueras, M., 2013. Ultrasonics promoted synthesis of 5-(pyrazol-4-yl)-4, 5-dihydropyrazoles derivatives. Applied Sciences, 3(2), pp.457-468.
Vogel, H.A. and Pelletier, J., 1815. Curcumin-biological and medicinal properties. J. Pharma, 2, p.50.
Wang, J., Li, P., Tian, R., Hu, W., Zhang, Y., Yuan, P., Tang, Y., Jia, Y. and Zhang, L., 2016. A Novel Microbubble Capable of Ultrasound-Triggered Release of Drug-Loaded Nanoparticles. Journal of Biomedical Nanotechnology, 12(3), pp.516-524.
Zhao, C., Cai, Y., He, X., Li, J., Zhang, L., Wu, J., Zhao, Y., Yang, S., Li, X., Li, W. and Liang, G., 2010. Synthesis and anti-inflammatory evaluation of novel mono-carbonyl analogues of curcumin in LPS-stimulated RAW 264.7 macrophages. European journal of medicinal chemistry, 45(12), pp.5773-5780.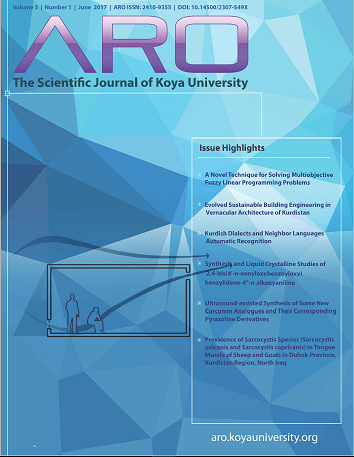 How to Cite
Hawaiz, F. E. and Shekh Omer, D. A. (2017) "Ultrasound-assisted Synthesis of Some New Curcumin Analogues and Their Corresponding Pyrazoline Derivatives", ARO-THE SCIENTIFIC JOURNAL OF KOYA UNIVERSITY, 5(1), pp. 30-35. doi: 10.14500/aro.10149.
Copyright (c) 2017 Farouq E. Hawaiz
This work is licensed under a Creative Commons Attribution-NonCommercial-ShareAlike 4.0 International License.
Authors who choose to publish their work with Aro agree to the following terms:
Authors retain the copyright to their work and grant the journal the right of first publication. The work is simultaneously licensed under a Creative Commons Attribution License [CC BY-NC-SA 4.0]. This license allows others to share the work with an acknowledgement of the work's authorship and initial publication in this journal.

Authors have the freedom to enter into separate agreements for the non-exclusive distribution of the journal's published version of the work. This includes options such as posting it to an institutional repository or publishing it in a book, as long as proper acknowledgement is given to its initial publication in this journal.

Authors are encouraged to share and post their work online, including in institutional repositories or on their personal websites, both prior to and during the submission process. This practice can lead to productive exchanges and increase the visibility and citation of the published work.
By agreeing to these terms, authors acknowledge the importance of open access and the benefits it brings to the scholarly community.