Toxic Metals in Some Decorative Cosmetics and Nail Products
Analysis, Evaluation, and Mitigation
Keywords:
Cosmetics, Curcumin, Metal ions, Nail polish, X-ray diffraction, X-ray fluorescence
Abstract
Cosmetic marketing is one of the most profitable and fast increasing markets in Kurdistan Region of Iraq. In recent years, the use of cosmetics has witnessed a rapid increase, especially with the emergence of social media and its impact on this trade. The market is full of different cosmetic brands and nail products. Moderate and low-quality brands of cosmetic samples that available in the local markets were selected to investigate their heavy metals and chemical composition. Samples from face foundation, eye shadow, and nail polish products were taken and examined to evaluate the concentration of metals, that is, Hg, Pb, Cd, As, Mn, Cr, Ni, Co, Fe, Zn, Cu, and Al ions, using X-ray diffraction and X-ray fluorescence techniques. The examination results show high concentrations of Fe and Al metals in the lipstick samples whereas the Hg, Cd, Cr, and Ni were out of detection limit. Moreover, the results show contamination of Hg heavy metal in one of the examined nail polishes brands, whereas the rest of foundation and eye shadow samples show a higher concentration of Al and Fe. Curcumin, as a natural bio-friendly chelate, has been used to deplete metal ions using ultraviolet-visible Spectrophotometer.
Downloads
Download data is not yet available.
References
Adepoju-Bello, A.A., Oguntibeju, O.O., Adebisi, R.A. Okpala, N. and Coker, H.A.B. 2012. Evaluation of the concentration of toxic metals in cosmetic products in Nigeria. African Journal of Biotechnology, 11(97), pp.16360-16364.
Al-Dayel, O., Hefne, J. and Al-Ajyan, T. 2011. Human exposure to heavy metals from cosmetics. Oriental Journal of Chemistry, 27, pp.1-11.
Borowska, S. and Brzoska, M.M. 2015. Metals in cosmetics: Implication for human health. Journal of Applied Toxicology, 35(6), pp.551-572.
Brausch, J.M. and Rand, G.M. 2011. A review of personal care products in the aquatic environment: Environmental concentrations and toxicity. Chemosphere, 82(11), pp.1518-1532.
Chauhan, A.S., Bhadauria, R., Singh, A.K., Lodhi, S.S., Chaturvedi, D.K. and Tomar, V.S. 2010. Determination of lead and cadmium in cosmetic products. Journal of Chemical and Pharmaceutical Research, 2(6), pp.92-97.
Chen, X., Sullivan, D.A., Sullivan, A.G., Kam, W.R. and Liu, Y. 2018. Toxicity of cosmetic preservatives on human ocular surface and adnexal cells. Experimental Eye Research, 170, pp. 188-197.
Chevillotte, G.C., Ficheux, A.S., Morisset, T. and Roudot, A.C. 2014. Exposure method development for risk assessment to cosmetic products using a standard composition. Food and Chemical Toxicology, 68, pp.108-116.
Claudia, J. and Giovanni, A.M. 2017. Review: Cosmetic ingredients as emerging pollutants of environmental and health concern. Cosmetics, 4(11), pp. 2-18.
Ekere, N.R., Ihedioha, J.N., Oparanozie, T.I., Ogbuefi-Chima, F.I. and Ayogu, J. 2014. Assessment of some heavy metals in facial cosmetic products. Journal of Chemical and Pharmaceutical Research, 6(8), pp.561-564.
Golnaz, K. and Parisa, Z. 2015. Heavy metal contamination of popular nail polishes in Iran. Iranian Journal of Toxicology, 9(29), pp.1290-1295.
Hwang, M., Yoon, W.K., Kim, J.Y., Son, B.K., Yang, S.J., Yun, M.O., Choi, S.S., Jang, D.D. and Yoo, T.M. 2009. Safety assessment of chromium by exposure from cosmetic products. Archives of Pharmacal Research, 32, pp.235-241.
Lakshmi, B.V.S., Sudhakar, M. and Prakash, K.S. 2015. Protective effect of selenium against aluminum chloride-induced Alzheimer's disease: Behavioral and biochemical alterations in rats. Biological Trace Element Research, 165(1), pp.67-74.
Morra, O.Z. 2014. Levels of selected heavy metals in Aloe vera skin cosmetics. A Thesis School of Pure and Applied Sciences. Kenya: Kenyatta University. pp.69.
Muhammed, N.A.A. and Hamsa, T.A.A. 2017. Detection of cadmium and chromium in some facial cosmetics. Iraqi Journal of Science, 58(1), pp.408-416.
Ouremi, O.I. and Ayodele, O.E. 2014. Lipsticks and nail polishes: Potential sources of heavy metal in human body. International Journal of Pharmaceutical Research and Allied Sciences, 3(4), pp.45-51.
Riyadh, M.J. 2020. Determination of some heavy metals in selected cosmetic products sold out at Iraqi markets. Systematic Reviews in Pharmacy, 11(12), pp.1632-1635.
Subhan, M.A., Alam, K., Rahman, M.S., Rahman, M.A. and Awal, M.R. 2014. Synthesis and characterization of metal complexes containing curcumin C21H20O6 and study of their anti-microbial activities and DNA bonding properties. Journal of Scientific Research, 6(1), pp.97-109.
Wormuth, M., Scheringer, M., Vollnweider, M. and HurgerbÜhler, K. 2006. What are the sources of exposure to eight frequently used phthalic acid esters in European? Risk Analysis, 26(3), pp.803-824.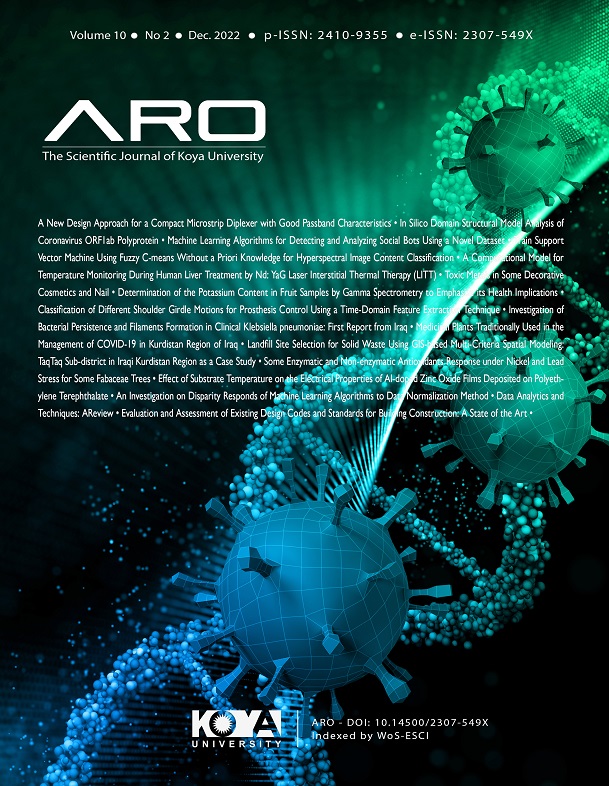 How to Cite
Meena, B. I., Tahir, T. F., Sdeeq, S. Z. and Sediq, K. N. (2022) "Toxic Metals in Some Decorative Cosmetics and Nail Products: Analysis, Evaluation, and Mitigation", ARO-THE SCIENTIFIC JOURNAL OF KOYA UNIVERSITY, 10(2), pp. 56-61. doi: 10.14500/aro.11067.
Copyright (c) 2022 Bashdar I. Meena, Tara F. Tahir, Shalaw Z. Sdeeq, Khalid N. Sediq
This work is licensed under a Creative Commons Attribution-NonCommercial-ShareAlike 4.0 International License.
Authors who choose to publish their work with Aro agree to the following terms:
Authors retain the copyright to their work and grant the journal the right of first publication. The work is simultaneously licensed under a Creative Commons Attribution License [CC BY-NC-SA 4.0]. This license allows others to share the work with an acknowledgement of the work's authorship and initial publication in this journal.

Authors have the freedom to enter into separate agreements for the non-exclusive distribution of the journal's published version of the work. This includes options such as posting it to an institutional repository or publishing it in a book, as long as proper acknowledgement is given to its initial publication in this journal.

Authors are encouraged to share and post their work online, including in institutional repositories or on their personal websites, both prior to and during the submission process. This practice can lead to productive exchanges and increase the visibility and citation of the published work.
By agreeing to these terms, authors acknowledge the importance of open access and the benefits it brings to the scholarly community.