VOLUME 3, NO 2 (2015)
Editor In Chief

Department of Architectural Engineering, Faculty of Engineering, Koya University, University Park, Danielle Mitterrand Boulevard, Koya KOY45, Kurdistan Region.

http://orcid.org/0000-0002-2724-5118
Abstract
Dear readers, you are holding the fifth issue (Vol III, No 2) of Aro, the Scientific Journal of Koya University in your hand. With this issue Aro has concluded its third year journey in leading the quality of regional scientific publication with global impact. The editorial team is determined to keep the path of such a mission and sustain Aro's future publications with quality and reliability in mind.
Despite the economic downturn which have had a great impact on scientific research and universities our region in particular, Aro has received good numbers of well-motivated quality papers which shows its steadily growing trust among researchers in the region. With increasing demands by volume of submission, Aro's Associate Editorial has grown larger and our meetings are richer. Our colleagues with great passion are contributing to Aro's long-term visions.
Aro was created with long-term visions of becoming accessible to all researchers in Kurdistan and beyond, and covering a wide range of scholarly disciplines in sciences. The focus of the journal is to reflect that of the Koya University, namely promoting scientific knowledge and research in Kurdistan and secure a brighter future in education. Aro aspires to become a channel for exchange of scholarly research by establishing academic connections between scholars and listed by reliable institutes.
Aro is a journal of original scientific research, global news, review paper, letters and commentary. The Aro Scientific Journal is a peer-reviewed, open access journal that publishes original research articles as well as review articles in areas of natural sciences and technology. In this issue you will have access to genuine research paper in variety of areas, such as petroleum, physics, chemical engineering, biochemistry, engineering and material.
Aro is a member of CrossRef, which is a not-for-profit membership association whose mission is to enable easy identification via dedicated DOI and use of trustworthy electronic content by promoting the cooperative development and application of a sustainable infrastructure. Aro is also has become member and indexed of many organizations, e.g., ICI, ROAD, Google Scholar, ResearchGate, WorldCat, etc. Beside its online publications, Aro has a semi-annual hard copy publication which is available free-of-charge.
The warm response from researchers, academics and professionals in the last two years has made us to create a wider Editorial Board which serves the wider submitted scientific manuscripts. However, it is clear that having a dedicated and well organized editorial board for the journal is only one side of the coin. The other is the ability to attract submissions of quality research and scholarly work. We are thankful to all of those who put their trust in Aro and presented their original research work for publication in Vol III, No 2 of the journal, as well as, our thanks are extended to the 13 peer-reviewers from the Universities worldwide for their efforts in reviewing this issue of Aro publications.
Your support and feedback are invited and appreciated.
Sincerely
Wali M. Hamad
Executive Publisher
Dilan M. Rostam, Shwan K. Rachid, Salah I. Yahya and Sarkawt S. Abdulrahman
Executive Editorial Board
Downloads
Download data is not yet available.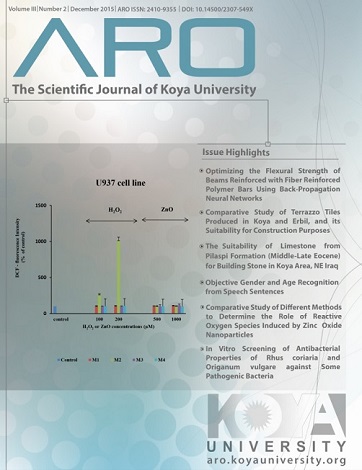 How to Cite
Chief, E. I. (2016) "VOLUME 3, NO 2 (2015)", ARO-THE SCIENTIFIC JOURNAL OF KOYA UNIVERSITY, 3(2). Available at: https://aro.koyauniversity.org/index.php/aro/article/view/EDT.005 (Accessed: 8February2023).
Section
Aro Editorial Words
Copyright (c) 2016 Editor In Chief
This work is licensed under a Creative Commons Attribution-NonCommercial-ShareAlike 4.0 International License.
Authors who publish with this journal agree to the following terms:
Authors retain copyright and grant the journal right of first publication with the work simultaneously licensed under a Creative Commons Attribution License [CC BY-NC-SA 4.0] that allows others to share the work with an acknowledgement of the work's authorship and initial publication in this journal.
Authors are able to enter into separate, additional contractual arrangements for the non-exclusive distribution of the journal's published version of the work (e.g., post it to an institutional repository or publish it in a book), with an acknowledgement of its initial publication in this journal.
Authors are permitted and encouraged to post their work online (e.g., in institutional repositories or on their website) prior to and during the submission process, as it can lead to productive exchanges, as well as earlier and greater citation of published work (See The Effect of Open Access).