VOLUME 1, NO 1 (2013)
Editor In Chief

Department of Architectural Engineering, Faculty of Engineering, Koya University, University Park, Danielle Mitterrand Boulevard, Koya KOY45, Kurdistan Region.

http://orcid.org/0000-0002-1187-311X
Abstract
It was less than a year ago when the Koya University Council (KUC) decided to separate its official University Journal (Govarí Zankoy Koye) into two separate publications. A journal treating topics in humanities and social sciences to be produced in hard copies; in Kurdish and Arabic, while a solely electronic journal in English dedicated to abstract and applied sciences. Our group was assigned the task of selecting an appropriate title, assembling an editorial board, and creating an editorial policy on reviews and submissions. The title selected for the latter journal was Aro, Kurdish for "today".
Aro is now borne as a peer-reviewed, open source online scientific publication. It is the fruit of great scholarly effort and editorial endeavor by the members of our academic community and the newly formed editorial board of the Journal. We would like to thank all members for their tireless support.
Aro was created with a long-term aspiration of becoming a credible regional and international scientific publication, accessible to all in Kurdistan and beyond, and covering a wide range of scholarly disciplines in sciences. The focus of the journal is to reflect that of the Koya University, namely promoting scientific knowledge and research in Kurdistan. We aspire for Aro to become a channel for exchange of research and scholarship by established and aspirant academics and researchers in Kurdistan and worldwide.
The warm response from researchers, academics and professionals made our task of creating an editorial Board a relatively easy one. It is clear that having a dedicated and well organized editorial board for the journal is only one side of the coin. The other is the ability to attract submissions of quality research and scholarly work. We are thankful to all of those who put their trust in Aro and presented their original research work and review articles for publication in the premier issue of the journal. Standards of submissions were flexible for the first issue. However, a robust review process has been put in place to ensure a high quality publication based on international norms and standards.
We strongly hope that submission of works and articles, high in quantity and quality, continues, as this is the only guarantee for the survival of Aro as a worthy alternative to costly international publications. We at the Editorial Board hope to publish Aro in a semi-annual format, with the hope of expanding its frequency into a quarterly journal in the future.
Your support and feedback are invited and appreciated.
Sincerely,
Professor Khidir M. Hawrami
Executive Publisher
Dilan M. Rostam, Shwan K. Rachid, Salah I. Yahya, Sarkawt S. Abdulrahman
Executive Editorial Board
Downloads
Download data is not yet available.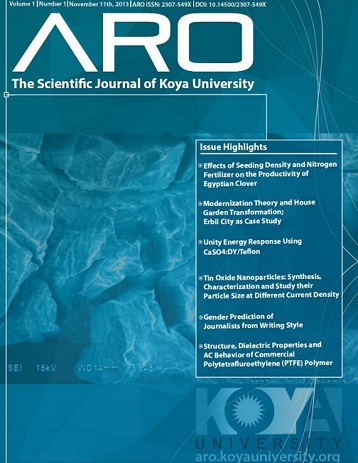 How to Cite
Chief, E. I. (2016) "VOLUME 1, NO 1 (2013)", ARO-THE SCIENTIFIC JOURNAL OF KOYA UNIVERSITY, 1(1). Available at: https://aro.koyauniversity.org/index.php/aro/article/view/EDT001 (Accessed: 8February2023).
Section
Aro Editorial Words
Copyright (c) 2016 Editor In Chief
This work is licensed under a Creative Commons Attribution-NonCommercial-ShareAlike 4.0 International License.
Authors who publish with this journal agree to the following terms:
Authors retain copyright and grant the journal right of first publication with the work simultaneously licensed under a Creative Commons Attribution License [CC BY-NC-SA 4.0] that allows others to share the work with an acknowledgement of the work's authorship and initial publication in this journal.
Authors are able to enter into separate, additional contractual arrangements for the non-exclusive distribution of the journal's published version of the work (e.g., post it to an institutional repository or publish it in a book), with an acknowledgement of its initial publication in this journal.
Authors are permitted and encouraged to post their work online (e.g., in institutional repositories or on their website) prior to and during the submission process, as it can lead to productive exchanges, as well as earlier and greater citation of published work (See The Effect of Open Access).