Investigation of Bacterial Persistence and Filaments Formation in Clinical Klebsiella pneumoniae
First Report from Iraq
Keywords:
Filamentation, Klebsiella pneumoniae, Persistence, Scanning electron microscope, Survivor cells
Abstract
Bacterial persistence is recognized as a major cause of antibiotic therapy failure, causing biofilms, and chronic intractable infections. The emergence of persisters in Klebsiella pneumoniae isolates has become a worldwide public health concern. The goal of the present study is to investigate the formation of persister cells beside filaments in Iraqi K. pneumoniae isolates. A total of fifty clinical K. pneumoniae isolates were collected from different clinical specimens and identified using the genotypic identification by using specific primer (rpoB gene) from housekeeping genes. Persister cells investigation is performed by exposure of stationary phase K. pneumoniae isolates to a high concentration of ciprofloxacin (×10 MIC) and counting the number of viable persister cells by CFU counts. Bacterial filament formation is detected and measured by light microscope scanning electron microscope. The results show the  bility of these pathogenic bacteria to form persister cells to survive the bactericidal antibiotics and to cause chronic infection.Furthermore, persistent isolates have the ability to change in shape and size extensively, about 4 times increase in cell length than their normal length. These phenomena are possibly the initial stages of bacterial resistance prevalence.
Downloads
Download data is not yet available.
References
Abokhalil, R.N., Elkhatib, W.F., Aboulwafa, M.M. and Hassouna, N.A., 2020. Persisters of Klebsiella pneumoniae and Proteus mirabilis: A common phenomenon and different behavior profiles. Current Microbiology, 77(7), pp.123-1244.
Aziz, S.N., Al Marjani, M.F., Rheima, A.M. and Al Kadmy, I.M., 2021. Antibacterial, antibiofilm, and antipersister cells formation of green synthesis silver nanoparticles and graphene nanosheets against Klebsiella pneumoniae. Reviews in Medical Microbiology, 33(1), pp.56-63.
Aziz, S.N., Al-Sallami, K.J., Abd, S.Y., Al-Musawi, A.M.A., Mohammed, M.A., Abed, A.M.H. and Mohammed, S.Q., 2019. Improving the antibacterial activity by the combination of zirconium oxide nanoparticles (ZrO2) and ceftazidime against Klebsiella pneumoniae. Global Journal of Public Health Medicine, 1(1), pp.16-20.
Black, D.S., Irwin, B. and Moyed, H.S. 1994. Autoregulation of hip, an operon that affects lethality due to inhibition of peptidoglycan or DNA synthesis. Journal of Bacteriology, 176(13), pp.4081-4091.
Blair, J.M., Webber, M.A., Baylay, A.J., Ogbolu, D.O. and Piddock, L.J. 2015. Molecular mechanisms of antibiotic resistance. Nature Reviews Microbiology, 13(1), pp.42-51.
Brauner, A., Fridman, O., Gefen, O. and Balaban, N.Q. 2016. Distinguishing between resistance, tolerance and persistence to antibiotic treatment. Nature Reviews Microbiology, 14(5), pp.320-330.
Buijs, J., Dofferhoff, A.M., Mouton, J.W., Wagenvoort, J.H.T. and Van Der Meer, J.W.M., 2008. Concentration-dependency of β-lactam-induced filament formation in Gram-negative bacteria. Clinical Microbiology and Infection, 14(4), pp.344-349.
Chung, E.S., Wi, Y.M. and Ko, K.S., 2017. Variation in formation of persister cells against colistin in Acinetobacter baumannii isolates and its relationship with treatment failure. Journal of Antimicrobial Chemotherapy, 72(7), pp.2133-2135.
Coskun, U.S.S., Cicek, A.C., Kilinc, C., Guckan, R., Dagcioglu, Y., Demir, O. and Sandalli, C., 2018. Effect of mazEF, higBA and relBE toxin-antitoxin systems on antibiotic resistance in Pseudomonas aeruginosa and Staphylococcus isolates. Malawi Medical Journal, 30(2), pp.67-72.
Da Silva, Y., Ferrari, R., Marin, V.A. and Junior, C.A.C., 2019. Aglobal overview of β-lactam resistance genes in Klebsiella pneumoniae. The Open Infectious Diseases Journal, 11(1), pp.22-34.
Fraikin, N., Goormaghtigh, F. and Van Melderen, L., 2020. Type II toxinantitoxin systems: Evolution and revolutions. Journal of Bacteriology, 202(7), pp.e00763-19.
Gollan, B., Grabe, G., Michaux, C. and Helaine, S., 2019. Bacterial persisters and infection: Past, present, and progressing. Annual Review of Microbiology, 73, pp.359-385.
Harms, A., Brodersen, D.E., Mitarai, N. and Gerdes, K., 2018. Toxins, targets, and triggers: An overview of toxin-antitoxin biology. Molecular Cell, 70(5), pp.768-784.
Helaine, S. and Kugelberg, E., 2014. Bacterial persisters: Formation, eradication, and experimental systems. Trends in Microbiology, 22(7), pp.417-424.
Hemati, S., Azizi-Jalilian, F., Pakzad, I., Taherikalani, M., Maleki, A., Karimi, S., Monjezei, A., Mahdavi, Z., Fadavi, M.R., Sayehmiri, K. and Sadeghifard, N., 2014. The correlation between the presence of quorum sensing, toxin-antitoxin system genes and MIC values with ability of biofilm formation in clinical isolates of Pseudomonas aeruginosa. Iranian Journal of Microbiology, 6(3), p.133-139.
Horesh, G., Fino, C., Harms, A., Dorman, M.J., Parts, L., Gerdes, K., Heinz, E. and Thomson, N.R., 2020. Type II and Type IV toxin-antitoxin systems show different evolutionary patterns in the global Klebsiella pneumoniae population.
Joseph, J., Sharma, S., and Dave, V.P., 2018. Filamentous gram-negative bacteria masquerading as actinomycetes in infectious endophthalmitis: A review of three cases. Journal of Ophthalmic Inflammation and Infection, 8(1), pp.1-6.
Kareem, S.M., Al-Kadmy, I.M., Kazaal, S.S., Ali, A.N.M., Aziz, S.N., Makharita, R.R., Algammal, A.M., Al-Rejaie, S., Behl, T., Batiha, G.E.S. and El-Mokhtar, M.A., 2021. Detection of gyra and parc mutations and prevalence of plasmid-mediated quinolone resistance genes in Klebsiella pneumoniae. Infection and Drug Resistance, 14, p.555.
Khazaal, S.S., Al-Kadmy, I.M., and Aziz, S.N., 2020. Mechanism of pathogenesis in multidrug resistant Acinetobacter baumannii isolated from intensive care unit. Gene Reports, 18, p.100557.
Korch, S.B., Henderson, T.A. and Hill, T.M., 2003. Characterization of the hipA7 allele of Escherichia coli and evidence that high persistence is governed by (p) ppGpp synthesis. Molecular Microbiology, 50(4), pp.1199-1213.
Lee, J.S., Choi, J.Y., Chung, E.S., Peck, K.R., and Ko, K.S., 2019. Variation in the formation of persister cells against meropenem in Klebsiella pneumoniae bacteremia and analysis of its clinical features. Diagnostic Microbiology and infectious disease, 95(3), p.114853.
Li, Y., Zhang, L., Zhou, Y., Zhang, Z., and Zhang, X., 2018. Survival of bactericidal antibiotic treatment by tolerant persister cells of Klebsiella pneumoniae. Journal of Medical Microbiology, 67(3), 273-281.
Navon-Venezia, S., Kondratyeva, K., and Carattoli, A., 2017. Klebsiella pneumoniae: A major worldwide source and shuttle for antibiotic resistance. FEMS Microbiology Reviews, 41(3), pp.252-275.
Podlesek, Z., Butala, M., Šakanović, A., and Žgur-Bertok, D., 2016. Antibiotic induced bacterial lysis provides a reservoir of persisters. Antonie Van Leeuwenhoek, 109(4), pp.523-528.
Windels, E.M., Michiels, J.E., Fauvart, M., Wenseleers, T., Van den Bergh, B., and Michiels, J., 2019. Bacterial persistence promotes the evolution of antibiotic resistance by increasing survival and mutation rates. The ISME Journal, 13(5), pp.1239-1251.
Wood, T.K. and Song, S., 2020. Forming and waking dormant cells: The ppGpp ribosome dimerization persister model. Biofilm, 2, p.100018.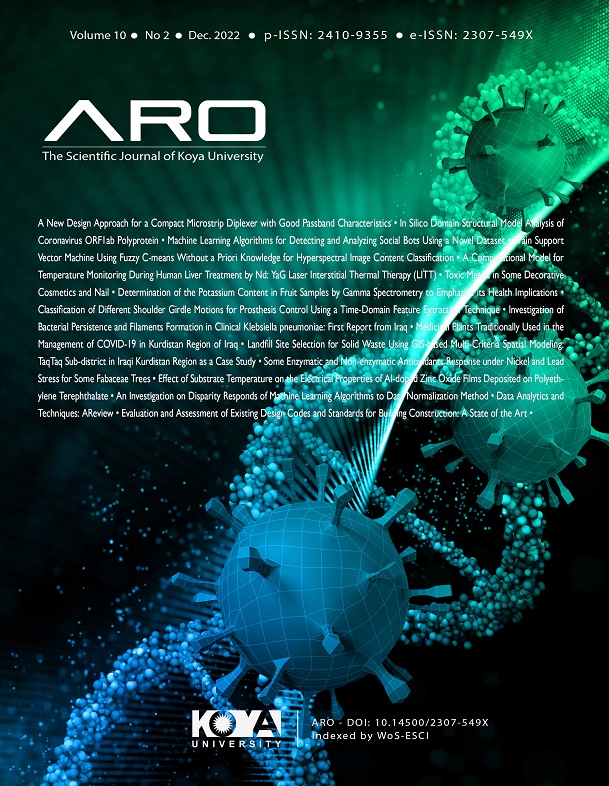 How to Cite
Aziz, S. N. and Al Marjani, M. F. (2022) "Investigation of Bacterial Persistence and Filaments Formation in Clinical Klebsiella pneumoniae: First Report from Iraq", ARO-THE SCIENTIFIC JOURNAL OF KOYA UNIVERSITY, 10(2), pp. 82-86. doi: 10.14500/aro.10895.
Copyright (c) 2022 Sarah N. Aziz, Mohammed F. Al Marjani
This work is licensed under a Creative Commons Attribution-NonCommercial-ShareAlike 4.0 International License.
Authors who publish with this journal agree to the following terms:
Authors retain copyright and grant the journal right of first publication with the work simultaneously licensed under a Creative Commons Attribution License [CC BY-NC-SA 4.0] that allows others to share the work with an acknowledgement of the work's authorship and initial publication in this journal.
Authors are able to enter into separate, additional contractual arrangements for the non-exclusive distribution of the journal's published version of the work (e.g., post it to an institutional repository or publish it in a book), with an acknowledgement of its initial publication in this journal.
Authors are permitted and encouraged to post their work online (e.g., in institutional repositories or on their website) prior to and during the submission process, as it can lead to productive exchanges, as well as earlier and greater citation of published work (See The Effect of Open Access).