In Vitro Screening of Antibacterial Properties of Rhus coriaria and Origanum vulgare Against Some Pathogenic Bacteria
Hêro F.S Akrayi

Department of Biology, College of Education, Salahaddin University, Kurdistan Region.

Rebwar M.H. Salih

Department of Biology, College of Education, Salahaddin University, Kurdistan Region.

Pishtiwan A. Hamad

Department of Biology, College of Education, Salahaddin University, Kurdistan Region.
Keywords:
Antibacterial agents, antimitotic index, E. coli, K. pneumoniae, plant extracts, P. aeruginosa, P. mirabilis.
Abstract
This study investigates the antibacterial property of Rhus coriaria (Sumac) and Origanum vulgare (Jatra) aqueous extracts against Escherichia coli ATCC 25922, Klebsiella pneumoniae, Proteus mirabilis and Pseudomonas aeruginosa ATCC 27835. Results confirm the resistance of the bacterial isolates against more than three antibiotics. The aqueous extract of R. coriaria showed the highest activity as an inhibitor against tested bacteria, while the aqueous extract of O. vulgare shows low effect against the above mentioned bacteria. MIC for R. coriaria and O. vulgare aqueous extracts were determined for four bacterial isolates. The MIC of O. vulgare against tested bacteria was >12%, while the MIC of R. coriaria was 4% for E. coli, <0.025% for both K. pneumoniae and P. mirabilis and 2% for P. aeruginosa. The phytochemical groups of both plants extract were analyzed; the results indicated both plants contain tannins, phenols and saponins, flavonoid, alkaloid, and phlobatanin. The antimitotic effect of both plants extracts were investigated on Allium cepa, and the extracts showed inhibitory role in the root growth in contrast to the control when grown in the tap water for 5 days. In addition, the 24 hours treatment of grown roots in tap water with both extracts resulted in significant decrease in mitotic index.
Downloads
Download data is not yet available.
References
Adebisi, O. and Ojokoh, A.O., 2011. Antimicrobial activities of green and red calyx extracts of Hibiscus sabdariffa on some microorganisms. Journal of Agriculture and Biological Sciences, 2(2), pp.038–042.
Alderman, D.J. and Smith, P., 2001. Development of Draft Protocols of Standard Reference Methods for Antimicrobial Agent Susceptibility Testing of Bacteria Associated with Fish Diseases. Aquaculture, 196(3–4), pp.211–243.
AL-Jubory, S.Y.O., Salah, S.S. and AL-Saltany, A.A.M., 2010. Antimicrobial study of active constituents of Rhus coriaria. Kufa Journal for Veterinary Medical Sciences, 2(1), pp.91.
AL-Neemy, U.M. and AL-Jebury, S.H., 2006. The Inhibitory Effect of Some Medicinal Plant Extracts to Streptococcus pyogenes. Duhok Zanko Journal, 11(1), pp.45–51. Proceedings of 1st Kurdistan Conference on Biological Science, Duhok.
Amusan, O.O.G., Sukati, N.A., Dlamini, P.S. and Sibandze, F.G., 2007. Some Swazi phytomedicines and their constituents. African Journal of Biotechnology, 6, pp.267–272.
Anil, C. and Shahid, R.M., 2013. Antimicrobial Susceptibility Patterns of Pseudomonas aeruginosa Clinical isolates at a Tertiary Care Hospital in Kathmandu, Nepal. Asian Journal of Pharmaceutical and Clinical Research, 6(3), pp.235–238.
Babpour, E.S., Angaji, A. and Angaji, S.M., 2009. Antimicrobial effects of four medicinal plants on dental plaque. Journal of Medicinal Plants and Researches, 3(3), pp.132–137.
Bauer, A.W., Kirby, W.M., Sherris, J.C. and Turck, M., 1966. Antibiotic susceptibility testing by standardized single disc diffusion method. American Journal of Clinical Pathology, 45: pp.493 – 496.
Bhujbal, S.S. Deshmukh, R.P. Bidkar, J.S. Thatte, V.A. Awasare, S.S. and Garg, P.P., 2011. Evaluation of cytotoxic activity of barks of Mimusops elengi. European and Asian Journal of Bioscience, 5, pp.73–79.
Chaudhry, N.M.A., Saeed, S. and Tariq, P., 2007. Antibacterial effects of Oregano (Origanum vulgare) against gram negative bacilli. Pakistan Journal of Botany, 39(2), pp.609–613.
Coyle, M.B., 2005. Manual of Antimicrobial Susceptibility Testing. American Society for Microbiology.
Daniel, A.T., Shaohua, Z., Emily, T., Sherry, A., Aparna, S., Mary, J.B. and Patrick, F.M., 2012. Antimicrobial Drug Resistance in Escherichia coli from Humans and Food Animals, United States, 1950–2002. Emerging Infectious Diseases, 18 (5), pp.741–749.
Egbebia, O. and Famurewa, O., 2011. Antibiotic Resistance of Klebsiella Isolated from Some Hospitals in South West, Nigeria to Third Generation Cephalosporin's. Advance Tropical Medicine and Public Health International, 1(3), pp.95–100.
Frieden, T., 2013. Antibiotic Resistance Threats in the United States. Centers for Disease Control and Prevention (CDC), pp.1–114.
Gaikwad, S.B. Krishna, M.G. and Anerthe, S.J., 2011. Antimitotic activity and brine shrimp lethality test of Tectona grandis Linn. Bark. Research Journal of Pharmaceutical, Biological and Chemical Science, 2(4), pp.1014–1022.
Ghafourian, S., Bin-Shekawi, Z., Sadeghifard, N., Mohebi, R., Neela, V.K., Maleki, A., Hematian, A., Rahbar, M., Raftari, M. and Ranjbar, R., 2011. The Prevalence of ESBLs Producing Klebsiella pneumoniae Isolates in Some Major Hospitals, Iran. The Open Microbiology Journal, 5, pp.91–95.
Hamada, T.A., Mahmood, A.R. and Ahmed, I.B., 2008. Antibiotic resistance in pathogenic bacteria isolated from utis in Tikrit province. Tikrit Medical Journal, 14(1): pp.203–210.
Ibrahim, T.A. Opawale, B.O. and Oyinloye, J.M.A., 2011. Antibacterial activity of herbal extracts against multi drug resistant strains of bacteria from clinical origin. Life Science and Leaflets, 15, pp.490–498.
Keskin, D. and Toroglu, S., 2011. Studies on antimicrobial activities of solvent extracts of different spices. Journal of Environment and Biology, 32, pp.251–256.
Kırmusaoğlu, S., Yurdugul, S. and Kocoğlu, E., 2007. Effects of Fermented Sumac on the Formation of Slime Layer of Staphylococcus aureus. Balkan Medical Journal, 29, pp.84–87.
Kossah, R. Nsabimana, C. Zhao, J. Chen, H. Tian, F. Zhang, H. and Chen, W., 2009. Comparative Study on the Chemical Composition of Syrian Sumac (Rhus coriaria L.) and Chinese Sumac (Rhus typhina L.) Fruits. Pakistan Journal of Nutrition, 8(10), pp.1570–1574.
Kumari, P., Joshi, G.C., Tewari, L.M. and Singh, B.K., 2011. Quantitative assessment and antibacterial activity of Origanum vulgare L. Journal of Phytology, 3(12), pp.15–21.
Levy, S.B. and Marshall, B., 2004. Antibacterial resistance worldwide: causes, challenges and responses. Nature Medicine Supplement, 10(12), pp.122–129.
Lewis, K., Salyers, A.A., Taber, H.W. and Wax, R.G., 2002. Bacterial Resistance to Antimicrobials. Marcel Dekker, Inc. New York. USA.
Odebiyi, O.O. and Sofowora, E.A., 1978. Phytochemical screening of Nigerian medical plants II. Lloydia,. 41, pp.2234–2246.
Oskay, M., Oskay, D. and Kalyoncu, F., 2009. Activity of Some Plant Extracts against Multi-Drug Resistant Human Pathogens. Iranian Journal of Pharmaceutical Research, 8(4), pp.293–300.
Ozzmen, A. Gamze, B. and Tugba, A., 2007. Antimitotic and antibacterial effects of the Nigella sativa L. seed. Caryologia, 60: pp.270–272.
Roopashree, T.S. Raman, D. Shobha, R.R.H. and Narendra, C., 2008. Antibacterial activity of antipsoriatic herbs: Cassia tora, Momordica charantia and Calendula officinalis. International Journal of Applied Researches and Natural Products, 1(3), pp.20–28.
Salah, H.F., 2007. Effect of some medicinal plant extract on antibiotic resistance by plasmids of Escherichia coli isolated from different sources. M.Sc. thesis submitted to College scientific education, University of Salahaddin – Erbil, Iraq.
Salna, K.P. Sreejith, K. Uthiralingam, M. Mithu, A.P. John, M.M. and Albin, T.F.A., 2011. Comparative study of phytochemicals investigation of Andrographis paniculata and Murraya koenigii. International Journal of Pharmacy and Pharmaceutical Science, 3(3), pp.291–292.
Schito, G.C. Naber, K.G. Botto, H. Polou, J. Mazzei, T. Guallo, L. and Marchese, A., 2009. The ARESC (Antimicrobial Resistance Epidemiological Survey on Cystitis) Study: An International Survey on the Antimicrobial Resistance of Pathogens involved in Uncomplicated Urinary Tract Infections. International Journal of Antimicrobial Agents, 34(5), pp.4–12.
Seyyednejad, S.M. Maleki, S. Mirzaei, D.N. and Motamedi, H., 2008. Antibacterial activity of Prunus mahaleb and parsley (Petroselinum crispum) against some pathogen. Asian Journal of Biological Science, 1, pp.51–55.
Shivali, N.M., and Kamboj, P., 2009. Hibiscus sabdariffa Linn. An overview. Natural Product Radiance, 8(1), pp.77–83.
Sikarwar, A.S., and Batra, H.V., 2011. Prevalence of Antimicrobial Drug Resistance of Klebsiella pneumoniae in India. International Journal of Bioscience, Biochemistry and Bioinformatics, 1(3), pp.211–215.
Solanki, R., 2010. Some Medical Plants with Antibacterial Activity. Pharmacie Globale (IJCP), 4(10), pp.1–4.
Stavri, M., Piddock, L.V.J., and Gibbons, S., 2007. Bacterial efflux pumps inhibitors from natural sources. Journal of Antimicrobial Chemotherapy, 59, pp.1247–1260.
Stermitz, F.R., Lorenz, P., and Tawara, J.N., 2000. Synergy in a medicinal plant: antimicrobial action of berberine potentiated by 5'-methoxyhydnocarpin, a multidrug pump inhibitor. Proceedings of the National Academy of Sciences USA, 97: pp.1433–1437.
Tariro, A.C., and Stanley, M., 2011. In Vitro Antibacterial Activity of Selected Medicinal Plants from Zimbabwe. The African Journal of Plant Science and Biotechnology, 5 (1), pp.1–7.
Toroglu, S. and Keskin, D., 2011. Antimicrobial Resistance and Sensitivity among Isolates of Klebsiella pneumoniae from Hospital Patients in Turkey. International Journal of Agriculture and Biology, 13(6), pp.941–946.
Vidyalakshmi, K.S. Chales, D.A. and Vasanthi, H.R., 2007. Anti – Mitotic and cytotoxic effect of Mussaenda queensirkit. Journal of Pharmacology and Toxicology, 2(7), pp.660–665.
Wasfi, R., Abd El-Rahman, O.A., Mansour, L.E., Hanora, A.S., Hashem, A.M., and Ashour, M.S., 2012. Antimicrobial activities against biofilm formed by Proteus mirabilis isolates from wound and urinary tract infections. Indian Journal of Medical Microbiology, 30(1), pp.76–80.
Ya, C. Gaffney, S.H. Lilley, T.H. and Haslam. E., 1989. Carbohydrate polyphenol complication in chemistry and significance of condensed tannins. Plenum Press, New York.
Younis, N.S., 2011. Neonatal Sepsis in Jordan: Bacterial Isolates and Antibiotic SusceptibilityPatterns. Rawal Medicine Journal, 36(3), pp.1–16.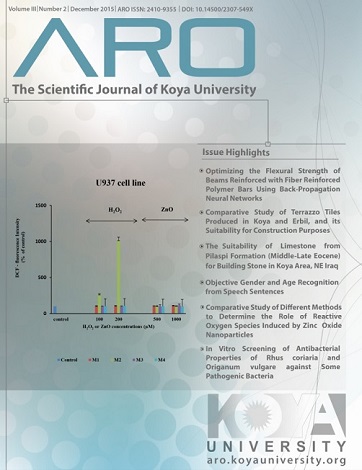 How to Cite
Akrayi, H. F., Salih, R. M. and Hamad, P. A. (2016) "In Vitro Screening of Antibacterial Properties of Rhus coriaria and Origanum vulgare Against Some Pathogenic Bacteria", ARO-THE SCIENTIFIC JOURNAL OF KOYA UNIVERSITY, 3(2), pp. 35-41. doi: 10.14500/aro.10085.
Copyright (c) 2016 Hêro F.S Akrayi, Rebwar M.H. Salih, Pishtiwan A. Hamad
This work is licensed under a Creative Commons Attribution-NonCommercial-ShareAlike 4.0 International License.
Authors who publish with this journal agree to the following terms:
Authors retain copyright and grant the journal right of first publication with the work simultaneously licensed under a Creative Commons Attribution License [CC BY-NC-SA 4.0] that allows others to share the work with an acknowledgement of the work's authorship and initial publication in this journal.
Authors are able to enter into separate, additional contractual arrangements for the non-exclusive distribution of the journal's published version of the work (e.g., post it to an institutional repository or publish it in a book), with an acknowledgement of its initial publication in this journal.
Authors are permitted and encouraged to post their work online (e.g., in institutional repositories or on their website) prior to and during the submission process, as it can lead to productive exchanges, as well as earlier and greater citation of published work (See The Effect of Open Access).