Male Rat Susceptibility for Liver and Kidney Injury
Sarkawt Hamad

Department of Biology, Faculty of Science, Soran University, Kurdistan Region.

Karwan I. Othman

Ashti Hospital, Soran, Erbil, Ministry of Health, Kurdistan Region.

Karwan J. Hamad

Department of Biology, Faculty of Science, Soran University, Kurdistan Region.

Balkes H. Rasul

Department of Biology, Faculty of Science, Soran University, Kurdistan Region.

Shorsh M. Abdulla

Department of Biology, Faculty of Science, Soran University, Kurdistan Region.

Ismael A. Ismael

Department of Biology, Faculty of Science, Soran University, Kurdistan Region.
Keywords:
Alanine aminotransferase, liver injury, testosterone.
Abstract
The experimental study of this paper was designed to investigate male rat susceptibility to liver injury. A combination of two experimental animal models (Lead acetate for tissue injury (80 mg / L) and castration) had been used on twenty male rats, they were divided into two groups sham (n = 10); castrated (n = 10). Results revealed that, liver weight reduced significantly (P < 0.05) in sham group in comparison with castrated rats, but kidney weight changed slightly. Also, serum aminotransferase (AST) was significantly higher in sham versus castrated rats. Neither alanine aminotransferase (ALT) and alkaline phosphatase (ALP) nor malondialdehyde (MDA) changed. In conclusion, the absence of male sex hormone would delay tissue injury of male rat organs especially liver organ.
Downloads
Download data is not yet available.
References
Block, D.B., Mesquita, F.F., de Lima, I.P., Boer, P.A. and Gontijo, J.A., 2015. Fetal kidney programming by maternal smoking eexposure: Effects on kidney structure, blood pressure and urinary sodium excretion in adult offspring. Nephron, 129(4), pp.283-392.
Chen, H., Jin, S., Guo, J., Kombairaju, P., Biswal, S. and Zirkin, B.R., 2015. Knockout of the transcription factor Nrf2: Effects on testosterone production by aging mouse Leydig cells. Mol Cell Endocrinol, 409, pp.113-120.
Coss, C.C., Bauler, M., Narayanan, R., Miller, D.D. and Dalton, J.T., 2012. Alanine aminotransferase regulation by androgens in non-hepatic tissues. Pharm Res, 29, pp.1046-1056.
Duran-Pasten, M.L., Fiordelisio-Coll, T. and Hernandez-Cruz, A., 2013. Castration-induced modifications of GnRH-elicited [Ca2+](i) signaling patterns in male mouse pituitary gonadotrophs in situ: studies in the acute pituitary slice preparation. Biol Reprod, 88(2), pp.32
El Sherrif, Y., Potts, J.R., Howard, M.R., Barnardo, A., Cairns, S., Knisely, A.S. and Verma, S., 2013. Hepatotoxicity from anabolic androgenic steroids marketed as dietary supplements: contribution from ATP8B1/ABCB11 mutations?. Liver Int, 33(8), pp.1266-1270.
Fan, S., Hao, Z.Y., Zhang, L., Chen, X.G., Zhou, J., Zang, Y.F., Tai, S. and Liang, C.Z., 2014. Increased chromogranin A and neuron-specific enolase in rats with chronic nonbacterial prostatitis induced by 17-beta estradiol combined with castration. Int J Clin Exp Pathol, 7(7), pp.3992-3999.
Gueutin, V, Vallet M, Jayat M, Peti-Peterdi J, Corniere N, Leviel F, Sohet F, Wagner CA, Eladari D, Chambrey R, 2013. Renal beta-intercalated cells maintain body fluid and electrolyte balance. J Clin Invest, 123, pp.4219-4231.
Hoedebecke, K., Rerucha, C., Maxwell, K. and Butler, J., 2013. Drug-induced liver injury secondary to testosterone prohormone dietary supplement use. J Spec Oper Med, 13(4), pp.1-5.
Kelly, D.M., Nettleship, J.E., Akhtar, S., Muraleedharan, V., Sellers, D.J., Brooke, J.C., McLaren, D.S., Channer, K.S. and Jones, T.H., 2014. Testosterone suppresses the expression of regulatory enzymes of fatty acid synthesis and protects against hepatic steatosis in cholesterol-fed androgen deficient mice. Life Sci, 109(2), pp.95-103.
Mikolasevic, I., Orlic, L., Zaputovic, L., Racki, S., Cubranic, Z., Anic, K., Devcic, B. and Stimac, D., 2015. Usefulness of liver test and controlled attenuation parameter in detection of nonalcoholic fatty liver disease in patients with chronic renal failure and coronary heart disease. Wien Klin Wochenschr, 127(11), pp.451-458
Naik, S.R., Thakare, V.N. and Patil, S.R., 2011. Protective effect of curcumin on experimentally induced inflammation, hepatotoxicity and cardiotoxicity in rats: evidence of its antioxidant property. Exp Toxicol Pathol, 63(5), pp.419-431.
Papastergiadis, A., Mubiru, E., Van Langenhove, H. and De Meulenaer, B., 2012. Malondialdehyde measurement in oxidized foods: evaluation of the spectrophotometric thiobarbituric acid reactive substances (TBARS) test in various foods. J Agric Food Chem, 60(38), pp.9589-9594.
Perez-Rodriguez, L., Romero-Haro, A.A., Sternalski, A., Muriel, J., Mougeot, F., Gil, D. and Alonso-Alvarez, C., 2015. Measuring oxidative stress: the confounding effect of lipid concentration in measures of lipid peroxidation. Physiol Biochem Zool, 88(3), pp.345-351.
Pertsov, S.S., Koplik, E.V., Kalinichenko, L.S. and Alekseeva, IV, 2014. Effect of melatonin on lipid peroxidation in the blood of rats with various behavioral characteristics during acute emotional stress]. Ross Fiziol Zh Im I M Sechenova, 100(6), pp.759-766.
Rostami, B., Nematbakhsh, M., Pezeshki, Z., Talebi, A., Sharifi, M.R., Moslemi, F., Eshraghi-Jazi, F. and Ashrafi, F., 2014. Effect of testosterone on Cisplatin-induced nephrotoxicity in surgically castrated rats. Nephrourol Mon, 6(5), pp.7.
Sharma, S., Raghuvanshi, S., Jaswal, A., Shrivastava, S. and Shukla, S., 2015. Lead acetate-induced hepatoxicity in wistar rats: possible protective role of combination therapy. J Environ Pathol Toxicol Oncol, 34(1), pp.23-34.
Shymans'kyi, I.O., Khomenko, A.V., Lisakovs'ka, O.O., Labudzyns'kyi, D.O., Apukhovs'ka, L.I. and Velykyi, M.M., 2014. The ROS-generating and antioxidant systems in the liver of rats treated with prednisolone and vitamin D3]. Ukr Biokhim Zh, 86(5), pp.111-125.
Stimac, D., Milic, S., Dintinjana, R.D., Kovac, D. and Ristic, S., 2002. Androgenic/Anabolic steroid-induced toxic hepatitis. J Clin Gastroenterol, 35(4), pp.350-352.
Timcheh-Hariri, A., Balali-Mood, M., Aryan, E., Sadeghi, M. and Riahi-Zanjani, B., 2012. Toxic hepatitis in a group of 20 male body-builders taking dietary supplements. Food Chem Toxicol, 50(10), pp.3826-3832.
Venkareddy, L.K. and Muralidhara, 2015. Potential of casein as a nutrient intervention to alleviate lead (Pb) acetate-mediated oxidative stress and neurotoxicity: First evidence in Drosophila melanogaster. Neurotoxicology, 48, pp.142-151.
Vieira, R.P., Franca, R.F., Damaceno-Rodrigues, N.R., Dolhnikoff, M., Caldini, E.G., Carvalho, C.R. and Ribeiro, W., 2008. Dose-dependent hepatic response to subchronic administration of nandrolone decanoate. Med Sci Sports Exerc, 4095), pp.842-847.
Vilar-Gomez, E., Martinez-Perez, Y., Calzadilla-Bertot, L., Torres-Gonzalez, A., Gra-Oramas, B., Gonzalez-Fabian, L., Friedman, S.L., Diago, M. and Romero-Gomez, M., 2015. Weight Loss via Lifestyle Modification Significantly Reduces Features of Nonalcoholic Steatohepatitis. Gastroenterology, 149(2), pp.367-378.
Wang, M.Y., Anderson, G., Nowicki, D. and Jensen, J., 2008. Hepatic protection by noni fruit juice against CCl(4)-induced chronic liver damage in female SD rats. Plant Foods Hum Nutr, 63(3), pp.141-145.
Waseem, N., Butt, S.A. and Hamid, S., 2014. Amelioration of lead induced changes in ovary of mice, by garlic extract. J Pak Med Assoc, 64(7), pp.798-801.
Yu, M.W., Cheng, S.W. and Lin, M.W., 2000. Androgen-receptor gene CAG repeats, plasma testosterone levels, and risk of hepatitis B-related hepatocellular carcinoma. J Natl Cancer Inst, 92(24), pp.2023-2028.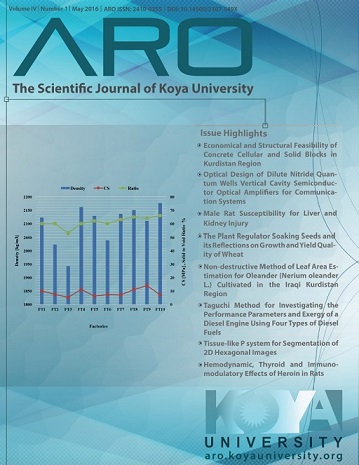 How to Cite
Hamad, S., Othman, K. I., Hamad, K. J., Rasul, B. H., Abdulla, S. M. and Ismael, I. A. (2016) "Male Rat Susceptibility for Liver and Kidney Injury", ARO-THE SCIENTIFIC JOURNAL OF KOYA UNIVERSITY, 4(1), pp. 13-16. doi: 10.14500/aro.10087.
Copyright (c) 2016 Sarkawt Hamad, Karwan I. Othman, Karwan J. Hamad, Balkes H. Rasul, Shorsh M. Abdulla, Ismael A. Ismael
This work is licensed under a Creative Commons Attribution-NonCommercial-ShareAlike 4.0 International License.
Authors who publish with this journal agree to the following terms:
Authors retain copyright and grant the journal right of first publication with the work simultaneously licensed under a Creative Commons Attribution License [CC BY-NC-SA 4.0] that allows others to share the work with an acknowledgement of the work's authorship and initial publication in this journal.
Authors are able to enter into separate, additional contractual arrangements for the non-exclusive distribution of the journal's published version of the work (e.g., post it to an institutional repository or publish it in a book), with an acknowledgement of its initial publication in this journal.
Authors are permitted and encouraged to post their work online (e.g., in institutional repositories or on their website) prior to and during the submission process, as it can lead to productive exchanges, as well as earlier and greater citation of published work (See The Effect of Open Access).