Chemical Composition and Cytotoxic Activity of Pistacia atlantica var. kurdica Fruits
Raad A. Kaskoos

Department of Pharmacy, Al-Manara College for Medical Science, Amarah, Iraq

https://orcid.org/0000-0003-1772-9351

Javed Ahamad

Department of Pharmacognosy, Faculty of Pharmacy, Tishk International University, Kurdistan Region, Erbil, Iraq

http://orcid.org/0000-0002-9445-5879

Subasini Uthirapathy

Department of Pharmacology, Faculty of Pharmacy, Tishk International University, Kurdistan Region, Erbil, Iraq

https://orcid.org/0000-0003-1250-388X
Keywords:
Pistacia atlantica var. kurdica, Anacardiaceae, Cancer, Gas chromatography–mass spectroscopy, A549 cell lines, (3-4,5 dimethylthiazol-2yl2,5-diphenyl tetrazolium bromide) assay
Abstract
Pistacia atlantica var. kurdica (Anacardiaceae) is a major subspecies found in the Kurdistan region of Iraq and has several beneficial bioactivities such as antioxidant, antibacterial, and antiviral. P. atlantica growing in the Kurdistan region is not yet studied phytochemically and pharmacologically. Hence, the goal of the present study is to characterize chemical compounds present in ethanolic extract of P. atlantica fruits by gas chromatography–mass spectroscopy (GC–MS) and to evaluate cytotoxic activity using A549 (human lung cancer) cell lines by (3-4,5 dimethylthiazol-2yl2,5-diphenyl tetrazolium bromide) assay. The GC–MS analysis shows the presence of 33 chemical compounds which constitute about 99.95% of total compounds, and isospathulenol (14.63%), spathulenol (13.45%), α-terpineol (13.28%), limonene (10.92%), terpinolene (10.89%), β-myrcene (6.92%), ethyl pentadecanoate (6.15%), β-pinene (4.98%), and caryophyllene oxide (4.01%) were found as major chemical compounds. P. atlantica inhibits cell proliferation in A549 cell lines in a time (24 h) and dose-dependent manner (0.5–500 µg/mL). After 24 h of treatment with P. atlantica, the cell viability of A549 cell lines ranged from 93.01 ± 5.24 to 57.69 ± 4.15% for concentrations of 0.5–500 µg/mL, respectively. This study expands the knowledge of the chemical composition of P. atlantica fruits and provides scientific evidence for its possible use as an anticancer medicine. The substantial anticancer activity of P. atlantica fruits may be due to the presence of isospathulenol, spathulenol, α-terpineol, limonene, terpinolene, β-myrcene, ethyl pentadecanoate, β-pinene, and caryophyllene oxide.
Downloads
Download data is not yet available.
References
Adams, R.P., 2007. Identification of Essential Oil Components by Gas Chromatography/Mass Spectrometry, 4th ed. Allured Publishing, Carol Stream, IL, USA.
Ahamad, J. and Uthirapathy, S., 2021a. Chemical characterization and antidiabetic activity of essential oils from Pelargonium graveolens leaves. ARO-The Scientific Journal of Koya University, 9(1), pp.109-113.
Ahamad, J., Toufeeq, I., Khan, M. A., Ameen, M.S.M., Anwer, E.T., Uthirapathy, S., Mir, S.R., Ahmad, J., 2019. Oleuropein: A natural antioxidant molecule in the treatment of metabolic syndrome. Phytotherapy Research, 33(12), pp.3112-3128.
Ahamad, J., Uthirapathy, S., Ameen, M.S.M. and Anwer, E.T., 2019. Essential oil composition and antidiabetic, anticancer activity of Rosmarinus officinalis L. leaves from Erbil (Iraq). Journal of Essential Oil Bearing Plants, 22(6), pp.1544-1553.
Ahmed, H.M., 2017. Traditional uses of Kurdish medicinal plant Pistacia atlantica subsp. kurdica Zohary in Ranya, Southern Kurdistan. Genetic Resources and Crop Evolution, 64, pp.1473-1484.
Ahmed, Z.B., Yousfi, M., Viaene, J., Dejaegher, B., Demeyer, K. and Heyden, Y.V., 2021. Four Pistacia atlantica subspecies (atlantica, cabulica, kurdica and mutica): Areview of their botany, ethnobotany, phytochemistry and pharmacology. Journal of Ethnopharmacology, 265, p.113329.
Ali, M., 2001. Techniques in Terpenoid Identification, Birla Publication, New Delhi, India, pp.4-51.
Ben Ahmed, Z., Yousfi, M., Viaene, J., Dejaegher, B., Demeyer, K., Mangelings, D. and Vander Heyden, Y., 2016. Antioxidant activities of Pistacia atlantica extracts modelled as a function of chromatographic fingerprints in order to identify antioxidant markers. The Microchemical Journal, 128, pp.208-217.
Benhammou, N., Bekkara, F.A. and Panovska, T.K., 2008. Antioxidant and antimicrobial activities of the Pistacia lentiscus and Pistacia atlantica extracts. African Journal of Pharmacy and Pharmacology, 2(2), pp.22-28.
Collins, L.G., Haines, C., Perkel, R. and Enck, R.E., 2007. Lung cancer: Diagnosis and management. American Family Physician, 75(1), pp.56-63.
Delazar, A., Reid, R.G. and Sarker, S.D., 2004. GC-MS analysis of the essential oil from the oleoresin of Pistacia atlantica var. mutica. Chemistry of Natural Compounds, 40, pp.24-27.
Farhoosh, R., Tavakoli, J. and Khodaparast, M.H.H., 2008. Chemical composition and oxidative stability of kernel oils from two current subspecies of Pistacia atlantica in Iran. Journal of the American Oil Chemists Society, 85, pp.723-729.
Gezici, S. and Şekeroğlu, N., 2019. Current perspectives in the application of medicinal plants against cancer: Novel therapeutic agents. Anti-Cancer Agents in Medicinal Chemistry, 19(1), pp.101-111.
Gourine, N., Yousfi, M., Bombarda, I., Nadjemi, B., Stocker, P. and Gaydou, E.M. 2010. Antioxidant activities and chemical composition of essential oil of Pistacia atlantica from Algeria. Industrial Crops and Products, 31, pp.203-208.
Hamelian, M., Hemmati, S., Varmira, K. and Veisi, H., 2018. Green synthesis, antibacterial, antioxidant and cytotoxic effect of gold nanoparticles using Pistacia atlantica extract. Journal of the Taiwan Institute of Chemical Engineers, 93, pp.21-30.
Jones, G.S. and Baldwin, D.R., 2018. Recent advances in the management of lung cancer. The Clinical Medicine (Lond), 18(2), pp.S41-S46.
Karimi, A., Moradi, M.T. and Gafourian, A., 2020. In vitro anti-adenovirus activity and antioxidant potential of Pistacia atlantica Desf. leaves. Research Journal of Pharmacognosy, 7(2), pp.53-60.
Kasabri, V., Afifi, F.U. and Hamdan, I., 2011. In vitro and in vivo acute antihyperglycemic effects of five selected indigenous plants from Jordan used in traditional medicine. Journal of Ethnopharmacology, 133(2), pp.888-896.
Marquez, C.M.D., Garcia, J.G., Antonio, J.G., Jacinto, S.D. and Velarde, M.C. 2020. Alangium longiflorum Merr. leaf extract induces apoptosis in A549 lung cancer cells with minimal NFκB transcriptional activation. Asian Pacific Journal of Cancer Prevention, 21(8), pp.2453-2461.
Mecherara-Idjeri, S., Hassani, A., Castola, V. and Casanova, J., 2008. Composition of leaf, fruit and gall essential oils of Algerian Pistacia atlantica Desf. The Journal of Essential Oil Research, 20, pp.215-219.
Najibullah, S.N.M., Ahamad, J., Aldahish, A.A., Sultana S. and Sultana, S., 2021b. Chemical characterization and α-glucosidase inhibitory activity of essential oil of Lavandula angustifolia flowers. Journal of Essential Oil Bearing Plants, 24(3), pp.431-438.
Sharifi, M.S. and Hazell, S.L., 2012. Isolation, analysis and antimicrobial activity of the acidic fractions of Mastic, Kurdica, Mutica and Cabolica gums from genus Pistacia. Global Journal of Health Science, 4, pp.217-228.
Sharifi, M.S., 2014. Chapter five Pistacia atlantica Kurdica. In: Perspectives on Kurdistan's Economy and Society in Transition. Vol. 2. Cambridge Scholars Publishing, United Kingdom, pp.64-83.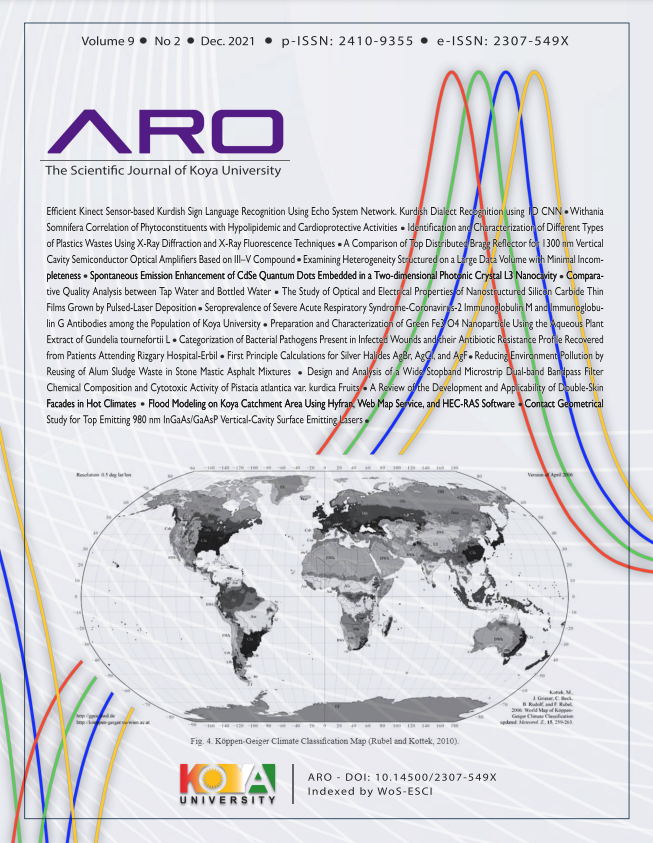 How to Cite
A. Kaskoos, R., Javed Ahamad and Uthirapathy, S. (2021) "Chemical Composition and Cytotoxic Activity of Pistacia atlantica var. kurdica Fruits", ARO-THE SCIENTIFIC JOURNAL OF KOYA UNIVERSITY, 9(2), pp. 91-95. doi: 10.14500/aro.10868.
Copyright (c) 2021 Raad A. Kaskoos, Javed Ahamad, Subasini Uthirapathy
This work is licensed under a Creative Commons Attribution-NonCommercial-ShareAlike 4.0 International License.
Authors who publish with this journal agree to the following terms:
Authors retain copyright and grant the journal right of first publication with the work simultaneously licensed under a Creative Commons Attribution License [CC BY-NC-SA 4.0] that allows others to share the work with an acknowledgement of the work's authorship and initial publication in this journal.
Authors are able to enter into separate, additional contractual arrangements for the non-exclusive distribution of the journal's published version of the work (e.g., post it to an institutional repository or publish it in a book), with an acknowledgement of its initial publication in this journal.
Authors are permitted and encouraged to post their work online (e.g., in institutional repositories or on their website) prior to and during the submission process, as it can lead to productive exchanges, as well as earlier and greater citation of published work (See The Effect of Open Access).