Modernization Theory and House Garden Transformation; Erbil City as Case Study
Salahaddin Y. Baper

Architecture Department, College of Engineering, Salahaddin Erbil, Kurdistan Region.

Ahmad S. Hassan

School of Housing, Building and Planning, Universiti Sains Malaysia, 11800, Penang, Malaysia.

Susan T. Ismail

Architecture Department, College of Engineering, Salahaddin University, Erbil, Kurdistan Region.
Keywords:
Erbil City, House Garden, Modernity, Morphology, Transformation
Abstract
Recently, the concept of modernity and its influences on global warming comes to be a common topic in architectural debates. The disappearance of gardens in the contemporary house layouts generated a need for new approaches to create a sustainable network of green areas within residential neighborhoods. The objectives of this paper intend to emphasize on the holistic phenomenon of house garden transformations. The rationale behind selecting cases inside Erbil city, Iraq return to its historical background which passed through rapid transformations due to the political, economic, and cultural changes. This paper aims to identify reason behind disappearance of house gardens in new developments. Moreover, it describes the physical elements of local traditions in different periods. The analytical methodology used in this paper relies on four different periods of the city evolution. It discusses the building garden visual elements in terms of architectural physical factors. The study emphases on two types of analyses, the morphology analyses for each period individually, and comparative analyses between different periods. The findings of this paper will indicate the crucial factors that affecting the disappearance of house garden as well as the general positive effects of vegetation in urban contexts.
Downloads
Download data is not yet available.
References
Baper, S. and Hassan, A., 2010. The Influence of Modernity on Kurdish Architectural Identity. American Journal of Engineering and Applied Sciences, 3(1), pp.552-559.
Baper, S., Hassan, A., Mustafa, F. and Ismail, S., 2010. A Theoretical study on Modernity and Transformation in Architecture. Proceedings of the 14th IPHS Conference on Urban Transformation: Controversies, Contrasts and Challenges, Istanbul, Turkey, July, 2010.
Chadirji, R., 1986. Architectural Education in Iraq, Architectural Education in the Islamic World. Singapore: Concept Media/Aga Khan Award for Architecture.
Dar-Alhandasah, D. A., 2007. Erbil City Master Plan Report, Directorate of Research & Studies-General Directorate of Constructive Planning -Ministry of Municipalities/Kurdistan Regional Government. IQ0587-TOC-PM-04 Rev 1.2007.
Easton, V. A., 2007. Pattern Garden: the essential elements of garden making, First Edition, Timber press.
Froomkin, A. M., 2003. Habermas@ discourse.net: Toward a critical theory of cyberspace. Harvard Law Review, 116(1), pp.757-777.
Gunter, M. M., 2004. Historical dictionary of the Kurds Lanham, Maryland and Oxford, Scarecrow Press, Inc.
KRG.HCECR Report, 2009. High commission for Erbil citadel Revitalization. <http://www.erbilcitadel.org/index.php> Accessed [20 September, 2013].
Herzog, T.R., and Chernick, K.K., 2000. Tranquillity and Danger in Urban and Natural Settings. Journal of Environmental Psychology, 20(1), pp.29-39.
Kuo, F. E., Bacaicoa, M., and Sullivan, W. C., 1998. Transforming inner-city landscapes: trees, sense of safety, and preference". Environment and Behavior, 30(1), pp.28-59.
Rasoul, H., 2003. Architecture and Technology: An Analytical Study of the Act in the Technological Architecture. Unpublished Ph.D thesis, University of Technology, Baghdad.
Sheets, V. L., and Manzer, C. D., 1991. Affect, cognition, and urban vegetation: some effects of adding trees along city trees. Environment and Behavior, 23(3), pp.285-304.
Sullivan, W.C., Kuo, F.E., and DePooter, S.F., 2004. The fruit of urban nature: vital neighbourhood spaces. Environment and Behavior, 36(5), pp.678-700.
Turner, T., 2005. Garden History Philosophy and Design 2000 BC–2000 AD, First Edition, Spon press Taylor & Francis Group.
Wilson, E.O., 1984. Biophilia, the Human Bond with other Species. First Edition Cambridge, Mass: Harvard University Press.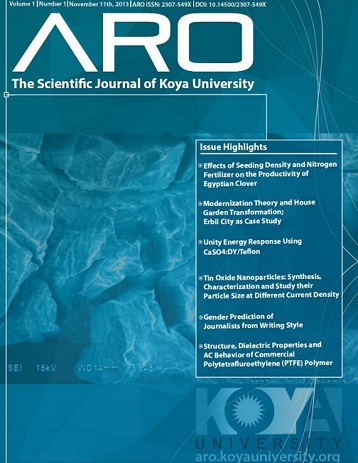 How to Cite
Baper, S. Y., Hassan, A. S. and Ismail, S. T. (2013) "Modernization Theory and House Garden Transformation; Erbil City as Case Study", ARO-THE SCIENTIFIC JOURNAL OF KOYA UNIVERSITY, 1(1), pp. 7-13. doi: 10.14500/aro.10024.
Copyright (c) 2013 Salahaddin Y. Baper, Ahmad S. Hassan, Susan T. Ismail
This work is licensed under a Creative Commons Attribution-NonCommercial-ShareAlike 4.0 International License.
Authors who choose to publish their work with Aro agree to the following terms:
Authors retain the copyright to their work and grant the journal the right of first publication. The work is simultaneously licensed under a Creative Commons Attribution License [CC BY-NC-SA 4.0]. This license allows others to share the work with an acknowledgement of the work's authorship and initial publication in this journal.

Authors have the freedom to enter into separate agreements for the non-exclusive distribution of the journal's published version of the work. This includes options such as posting it to an institutional repository or publishing it in a book, as long as proper acknowledgement is given to its initial publication in this journal.

Authors are encouraged to share and post their work online, including in institutional repositories or on their personal websites, both prior to and during the submission process. This practice can lead to productive exchanges and increase the visibility and citation of the published work.
By agreeing to these terms, authors acknowledge the importance of open access and the benefits it brings to the scholarly community.