Bacterial Profile and Antimicrobial Susceptibility of Isolates Recovered from Lower Respiratory Tract Infection for Patients in Rizgary Hospital, Erbil
Mahmoud A. Chawsheen

Department of General Sciences, Faculty of Education, Soran University, Erbil, Kurdistan Region – F.R. Iraq

https://orcid.org/0000-0003-2277-1984

Ahmed A. Al-Naqshbandi

Department of Laboratory, Rizgary Teaching Hospital, Erbil, Kurdistan Region – F.R. Iraq

Haval H. Abdulqader

Nanakali Hospital for Blood diseases and Cancer, Erbil, Kurdistan Region – F.R. Iraq
Keywords:
Acinetobacter baumannii, Ampicillin, Lower respiratory tract infection, Multidrug resistance, Streptococcus parasanguinis
Abstract
Recognition of etiologies of lower respiratory tract infection (LRTI) may help in delivering effective treatment options and circumvent emergence of antibiotic resistance. This study was carried out to uncover bacterial profile and antibiotic sensitivity patterns among 310 LRTI patients attended Rizagary Hospital between January 2014 to December 2016. Standard laboratory techniques were applied in collecting, processing, and culturing sputum and bronchial wash specimens. VITEK® 2 compact systems were used to identify bacteria and their antibiotic sensitivity patterns. Results showed that Streptococcus parasanguinis and Acinetobacter baumannii were the most abundant gram-positive and gram-negative bacteria (GPB & GNB), respectively, isolated from sputum specimens. From bronchial wash specimens, only GNB were detected and Serratia marcescens was the most abundant one. Antibiotic sensitivity tests revealed that Streptococcus parasanguinis was the most resistant GPB and Acinetobacter baumannii was the most resistant GNB. Sputum recovered GPB were highly resistant to Ampicillin, Erythromycin, Levofloxacin, Trimethoprim/Sulfamethoxazole, and Tetracycline. Bronchial wash recovered GNB were highly resistant to Ampicillin, Minocycline, Pefloxacin, Piperacillin, and Ticarcillin. In conclusion, LRTIs are mainly associated with GNB rather than GPB. The recovered Streptococcus parasanguinis and Acinetobacter baumannii were found to be multidrug-resistant pathogens. Ampicillin was ineffective against any of recovered pathogenic bacteria.
Downloads
Download data is not yet available.
References
Ali, I. and Butt, M., 2017. Antibiotic susceptibility pattern of bacterial isolates from patients of respiratory tract infection at 43 centers in Punjab, Pakistan. Clinical and Experimental Pharmacology, 7, p.2.
Al-Naqshbandi, A.A., Chawsheen, M.A. and Abdulqader, H.H., 2019. Prevalence and antimicrobial susceptibility of bacterial pathogens isolated from urine specimens received in Rizgary hospital Erbil. Journal of Infection and Public Health, 12, pp.330-336.
Bali, N., Kakru, D., Bashir, H., Lone, S., Farhana, A. and Koul, P., 2016. Lower respiratory tract infections in intensive care units. A four year study from North India. British Journal of Medicine and Medical Research, 11, pp.1-9.
Barac, A., Ong, D.S.Y., Jovancevic, L., Peric, A., Surda, P., Spiric, V.T. and. Rubino, S., 2018. Fungi-induced upper and lower respiratory tract allergic diseases: One entity. Frontiers in Microbiology, 9, p.583.
Baturin, V.A., Shchetinin, E.V. and Malykhin, F.T., 2015. Regional specifics of microbial landscape in outpatients with lower respiratory tract infections. The International Journal of Risk and Safety in Medicine, 27 Suppl 1, pp.S61-2.
Brook, I., 1997. Anaerobic lower respiratory tract infections in children. Clinical Pulmonary Medicine, 4, pp.1-7.
Brookes-Howell, L., Hood, K., Cooper, L., Little, P., Verheij, T., Coenen, S., Godycki-Cwirko, M., Melbye, H., Borras-Santos, A., Worby, P., Jakobsen, K., Goossens, H. and Butler, C.C., 2012. Understanding variation in primary medical care: A nine-country qualitative study of clinicians' accounts of the non-clinical factors that shape antibiotic prescribing decisions for lower respiratory tract infection. BMJ Open, 2, p.e000796.
Budayanti, N.S., Suryawan, K., Iswari, I.S. and Sukrama, D.M., 2019. The quality of sputum specimens as a predictor of isolated bacteria from patients with lower respiratory tract infections at a tertiary referral hospital, Denpasar, Bali-Indonesia. Frontiers in Medicine, 6, p.64.
Christiansen, K.,1996. Treatment of common lower respiratory tract infections. Australian Prescriber, 16, pp.48-51.
Claeys, K.C., Zasowski, E.J., Trinh, T.D., Lagnf, A.M., Davis, S.L. and Rybak, M.J., 2017. Antimicrobial stewardship opportunities in critically Ill patients with gram-negative lower respiratory tract infections: A multicenter cross-sectional analysis. Infectious Diseases and Therapy, 7, pp.135-146.
Ehlken, B., Ihorst, G., Lippert, B., Rohwedder, A., Petersen, G., Schumacher, M. and Forster, J., 2005. Economic impact of community-acquired and nosocomial lower respiratory tract infections in young children in Germany. European Journal of Pediatrics, 164, pp.607-615.
Fatima, A., Naqvi, S.B., Khaliq, S.A., Perveen, S. and Jabeen, S., 2012. Antimicrobial susceptibility pattern of clinical isolates of Pseudomonas aeruginosa isolated from patients of lower respiratory tract infections. Springerplus, 1, p.70.
Feldman, C. and Richards, G., 2018. Appropriate antibiotic management of bacterial lower respiratory tract infections. F1000Res, 7, p1121.
Huang, C., Wang, Y., Li, X., Ren, L., Zhao, J., Hu, Y., Zhang, L., Fan, G., Xu, J., Gu, X., Cheng, Z., Yu, T., Xia, J., Wei, Y., Wu, W., Xie, X., Yin, W., Li, H., Liu, M., Xiao, Y., Gao, H., Guo, L., Xie, J., Wang, G., Jiang, R., Gao, Z., Jin, Q., Wang, J. and Cao, B., 2020. Clinical features of patients infected with 2019 novel coronavirus in Wuhan, China. The Lancet, 395, pp.497-506.
Karlowsky, J.A., Lob, S.H., Kazmierczak, K.M., Young, K., Motyl, M.R. and Sahm, D.F., 2020. In-vitro activity of imipenem/relebactam and key β-lactam agents against gram-negative bacilli isolated from lower respiratory tract infection samples of intensive care unit patients-SMART Surveillance United States 2015-2017. International Journal of Antimicrobial Agents, 55, p.105841.
Kasper, D.L., Braunwald, E., Hauser, S., Longo, D., Jameson, J.L. and Fauci, A.S., 2006. Harrison's Principles of Internal Medicine. McGraw-Hill Education, New York.
Kedzia, A., Kwapisz, E. and Wierzbowska, M., 2003. Incidence of anaerobic bacteria in respiratory tract infections. Pneumonologia Alergol Pol, 71, pp.68-73.
Khan, S., Priti, S. and Ankit, S., 2015. Bacteria etiological agents causing lower respiratory tract infections and their resistance patterns. Iranian Biomedical Journal, 19, pp.240-246.
Kohlenberg, A., Schwab, F., Geffers, C., Behnke, M., Rüden, H. and Gastmeier, P., 2008. Time-trends for Gram-negative and multidrug-resistant Gram-positive bacteria associated with nosocomial infections in German intensive care units between 2000 and 2005. Clinical Microbiology and Infection, 14, pp.93-96.
Kumar, S., 2016. Essentials of Microbiology. Jaypee Group, Noida. Langelier, C., Kalantar, K.L., Moazed, F., Wilson, M.R., Crawford, E.D., Deiss, T., Belzer, A., Bolourchi, S., Caldera, S., Fung, M., Jauregui, A., Malcolm, K., Lyden, A., Khan, L., Vessel, K., Quan, J., Zinter, M., Chiu, C.Y., Chow, E.D., Wilson, J., Miller, S., Matthay, M.A., Pollard, K.S., Christenson, S., Calfee, C.S. and Derisi, J.L., 2018. Integrating host response and unbiased microbe detection for lower respiratory tract infection diagnosis in critically ill adults. Proceedings of the National Academy of Sciences, 115, pp.E12353-E12362.
Madhi, S.A. and Klugman, K.P., 2006. Acute respiratory infections. In: Jamison, D.T., Feachem, R.G., Makgoba, M.W., Bos, E.R., Baingana, F.K., Hofman, K.J. and Rogo, K.O. (eds.) Disease and Mortality in Sub-Saharan
Africa. The International Bank for Reconstruction and Development, The World Bank, Washington, DC.
Mahashur, A., 2018. Management of lower respiratory tract infection in outpatient settings: Focus on clarithromycin. Lung India: Official Organ of Indian Chest Society, 35, pp.143-149.
Mahon, C.R., Lehman, D.C. and Manuselis, G., 2014. Textbook of Diagnostic Microbiology-E-Book. Elsevier Health Sciences, Amsterdam, Netherlands.
Pavia, A.T., 2011. Viral infections of the lower respiratory tract: Old viruses, new viruses, and the role of diagnosis. Clinical Infectious Diseases, 52, pp.S284-S289.
Prat, C. and Lacoma, A., 2016. Bacteria in the respiratory tract how to treat? Or do not treat? International Journal of Infectious Diseases, 51, pp.113-122.
Ren, L., Gonzalez, R., Wang, Z., Xiang, Z., Wang, Y., Zhou, H., Li, J., Xiao, Y., Yang, Q., Zhang, J., Chen, L., Wang, W., Li, Y., Li, T., Meng, X., Zhang, Y., Vernet, G., Paranhos-Baccalà, G., Chen, J., Jin, Q. and Wang, J., 2009. Prevalence
of human respiratory viruses in adults with acute respiratory tract infections in Beijing, 2005-2007. Clinical Microbiology and Infection, 15, pp.1146-1153.
Shiley, K.T., Lautenbach, E. and Lee, I., 2015. The use of antimicrobial agents after diagnosis of viral respiratory tract infections in hospitalized adults: Antibiotics or anxiolytics? Infection Control and Hospital Epidemiology, 31, pp.1177-1183.
Sinha, A., Kim, S., Ginsberg, G., Franklin, H., Kohberger, R., Strutton, D., Madhi, S.A., Griffiths, U.K. and Klugman, K.P., 2013. Economic burden of acute lower respiratory tract infection in South African children. Paediatrics and International Child Health, 32, pp.65-73.
Tchatchouang, S., Nzouankeu, A., Kenmoe, S., Ngando, L., Penlap, V., Fonkoua, M.C., Pefura-Yone, E.W. and Njouom, R., 2019. Bacterial aetiologies of lower respiratory tract infections among adults in Yaoundé, Cameroon. BioMed Research International, 2019, pp.1-7.
Troeger, C.E., Blacker, B.F., Khalil, I.A., Zimsen, S.R.M., Albertson, S.B., Abate, D., Abdela, J., Adhikari, T.B., Aghayan, S.A., Agrawal, S., Ahmadi, A., Aichour, A.N., Aichour, I., Aichour, M.T.E., Al-Eyadhy, A., Al-Raddadi, R.M., Alahdab, F., Alene, K.A., Aljunid, S.M., Alvis-Guzman, N., Anber, N.H., Anjomshoa, M., Antonio, C.A.T., Aremu, O., Atalay, H.T., Atique, S., Attia, E.F., Avokpaho, E.F.G., Awasthi, A., Babazadeh, A., Badali, H., Badawi, A., Banoub, J.A.M., Barac, A., Bassat, Q., Bedi, N., Belachew, A.B., Bennett, D.A., Bhattacharyya, K., Bhutta, Z.A., Bijani, A., Carvalho, F., Castañeda-Orjuela, C.A., Christopher, D.J., Dandona, L., Dandona, R., Dang, A.K., Daryani, A., Degefa, M.G., Demeke, F.M., Dhimal, M., Djalalinia, S., Doku, D.T., Dubey, M., Dubljanin, E., Duken, E.E., Edessa, D., El Sayed Zaki, M., Fakhim, H., Fernandes, E., Fischer, F., Flor, L.S., Foreman, K.J., Gebremichael, T.G., Geremew, D., Ghadiri, K., Goulart, A.C., Guo, J., Ha, G.H., Hailu, G.B., Haj-Mirzaian, A., Haj-Mirzaian, A., Hamidi, S., Hassen, H.Y., Hoang, C.L., Horita, N., Hostiuc, M., Irvani, S.S.N., Jha, R.P., Jonas, J.B., Kahsay, A., Karch, A., Kasaeian, A., Kassa, T.D., Kefale, A.T., Khader, Y.S., Khan, E.A., Khan, G., Khan, M.N., Khang, Y.H., Khoja, A.T., Khubchandani, J., Kimokoti, R.W., Kisa, A., Knibbs, L.D., Kochhar, S., Kosen, S., Koul, P.A., Koyanagi, A., Kuate Defo, B., 2019. Mortality, morbidity, and hospitalisations due to influenza lower respiratory tract infections, 2017: An analysis for the Global Burden of Disease Study 2017. The Lancet Respiratory Medicine, 7, pp.69-89.
Trucchi, C., Paganino, C., Orsi, A., Amicizia, D., Tisa, V., Piazza, M.F., Gallo, D., Simonetti, S., Buonopane, B., Icardi, G. and Ansaldi, F., 2019. Hospital and economic burden of influenza-like illness and lower respiratory tract infection in adults ≥50years-old. BMC Health Services Research, 19, p.585.
Woodhead, M., Blasi, F., Ewig, S., Garau, J., Huchon, G., Ieven, M., Ortqvist,A., Schaberg, T., Torres, A., Van Der Heijden, G., Read, R. and Verheij, T.J.M., 2011. Guidelines for the management of adult lower respiratory tract infections summary. Clinical Microbiology and Infection, 17, pp.1-24.
Yan, T., Li, Y., Sun, Y., Wang, H., Wang, J., Wang, W., Liu, Y., Wu, X. and Wang, S., 2018. Hospital-acquired lower respiratory tract infections among high risk hospitalized patients in a tertiary care teaching hospital in China: An economic burden analysis. Journal of Infection and Public Health, 11, pp.507-513.
Yin, C.C., Huah, L.W., Lin, J.T.P., Goh, A., Ling, H. and Moh, C.O., 2003. Lower respiratory tract infection in hospitalized children. Respirology, 8, pp.83-89.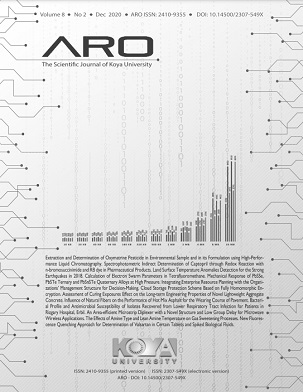 How to Cite
Chawsheen, M. A., Al-Naqshbandi, A. A. and Abdulqader, H. H. (2020) "Bacterial Profile and Antimicrobial Susceptibility of Isolates Recovered from Lower Respiratory Tract Infection for Patients in Rizgary Hospital, Erbil", ARO-THE SCIENTIFIC JOURNAL OF KOYA UNIVERSITY, 8(2), pp. 64-70. doi: 10.14500/aro.10724.
Copyright (c) 2020 Mahmoud A. Chawsheen, Ahmed A. Al-Naqshbandi, Haval H. Abdulqader
This work is licensed under a Creative Commons Attribution-NonCommercial-ShareAlike 4.0 International License.
Authors who publish with this journal agree to the following terms:
Authors retain copyright and grant the journal right of first publication with the work simultaneously licensed under a Creative Commons Attribution License [CC BY-NC-SA 4.0] that allows others to share the work with an acknowledgement of the work's authorship and initial publication in this journal.
Authors are able to enter into separate, additional contractual arrangements for the non-exclusive distribution of the journal's published version of the work (e.g., post it to an institutional repository or publish it in a book), with an acknowledgement of its initial publication in this journal.
Authors are permitted and encouraged to post their work online (e.g., in institutional repositories or on their website) prior to and during the submission process, as it can lead to productive exchanges, as well as earlier and greater citation of published work (See The Effect of Open Access).