Categorization of Bacterial Pathogens Present in Infected Wounds and their Antibiotic Resistance Profile Recovered from Patients Attending Rizgary Hospital-Erbil
Keywords:
Antibiotic resistance, Healing, Infection, Multi drug resistant, Pathogenic bacteria, Wound
Abstract
Wound infection with antibiotic-resistant bacteria can extend a patients' debility and increase the expense of treatment in the long term; therefore, careful management of patients with wound infections is necessary to avoid complications. The usage of antimicrobial agent is a major factor in resistance development. This study aims to understand the causes of wound infections, as well as the criteria for diagnosing them for more sensible antibiotic prescribing. Samples from 269 wound patients were collected, and cultured for bacterial growth. Gram stain technique, bacterial identification via VITEK 2 compact system were investigated in this study. Gram negative bacteria accounted for 59.15% of the total isolates, while pathogenic gram positive bacteria accounted for 40.85% of total isolates. Escherichia coli and Pseudomonas aeruginosa are the dominant pathogenic gram negative bacteria in wounds, while Staphylococcus aureus, and Staphylococcus epidermidis are the dominant pathogenic gram positive bacteria. Pseudomonas aeruginosa showed 100% resistance to the majority of antibiotic tested, including Ampicillin, Amoxicillin/Clavulanic Acid, Aztreona, Ceftriaxone, and others. Staphylococcus aureus and Staphylococcus epidermidis are 100% resistant to Ampicillin, Ceftriaxone, and Cefotaxime. For more efficient antibiotic prescriptions, the causative microorganisms, and their current susceptibility patterns need to be mandated for testing before prescribing any antibiotics to patients. Prescriptions are frequently based solely on general information about the antibiotic's function, rather than on individual response variation to the pathogen and the antibiotic. Particularly when the common pathogens in this study show multidrug resistance in wounds.
Downloads
Download data is not yet available.
References
Abbas, Z.K. and Owaid, M.N., 2021. Prevalence of antibiotics resistance in the isolated bacteria from bronchial washing fluids in Ramadi Teaching Hospital, Iraq. Gazi Medical Journal, 32(3), pp.359-363.
Al-Naqshbandi, A.A., Chawsheen, M.A. and Abdulqader, H.H., 2019. Prevalence and antimicrobial susceptibility of bacterial pathogens isolated from urine specimens received in Rizgary hospital-Erbil. Journal of Infection and Public Health, 12, pp.330-336.
Azzopardi, E.A., Azzopardi, S.M., Boyce, D.E. and Dickson, W.A., 2011. Emerging gram-negative infections in burn wounds. Journal of Burn Care and Research, 32, pp.570-576.
Bessa, L.J., Fazii, P., Di Giulio, M. and Cellini, L., 2015. Bacterial isolates from infected wounds and their antibiotic susceptibility pattern: Some remarks about wound infection. International Wound Journal, 12, 47-52.
Bjarnsholt, T., 2013. The role of bacterial biofilms in chronic infections. Apmis, 121, pp.1-58.
Bowler, P.G., 2018. Antibiotic resistance and biofilm tolerance: Acombined threat in the treatment of chronic infections. Journal of Wound Care, 27, pp.273-277.
Chadwick, P. and Ousey, K., 2019. Bacterial-binding dressings in the management of wound healing and infection prevention: A narrative review. Journal of Wound Care, 28, pp.370-382.
Chawsheen, M.A., Al-Naqshbandi, A.A. and Abdulqader, H.H., 2020. Bacterial profile and antimicrobial susceptibility of isolates recovered from lower respiratory tract infection for patients in Rizgary Hospital, Erbil. Aro-the Scientific Journal of Koya University, 8, pp.64-70.
Cooper, R.A., Bjarnsholt, T. and Alhede, M., 2014. Biofilms in wounds: A review of present knowledge. Journal of Wound Care, 23, pp.570-582.
Daeschlein, G., 2013. Antimicrobial and antiseptic strategies in wound management. International Wound Journal, 10, pp.9-14.
Demidova-Rice, T.N., Hamblin, M.R. and Herman, I.M., 2012. Acute and impaired wound healing. Advances in Skin and Wound Care, 25, pp.304-314.
Filius, P.M. and Gyssens, I.C., 2002. Impact of increasing antimicrobial resistance on wound management. American Journal of Clinical Dermatology, 3, pp.1-7.
Frykberg, R.G. and Banks, J., 2015. Challenges in the treatment of chronic wounds. Advances in Wound Care, 4, pp.560-582.
Guan, H., Dong, W., Lu, Y., Jiang, M., Zhang, D., Aobuliaximu, Y., Dong, J., Niu, Y., Liu, Y., Guan, B., Tang, J. and Lu, S., 2021. Distribution and antibiotic resistance patterns of pathogenic bacteria in patients with chronic cutaneous wounds in China. Frontiers in Medicine, 8, pp.609584.
Herman, T.F. and Bordoni, B., 2021. Wound classification. In: StatPearls. StatPearls Publishing, Treasure Island, FL. Kumar, S., 2016. Essentials of Microbiology.
Jaypee Group, Noida Mcdowell, A., Azzopardi, E.A., Azzopardi, E., Camilleri, L., Villapalos, J., Boyce, D.E., Dziewulski, P., Dickson, W.A. and Whitaker, I.S., 2014. Gram negative wound infection in hospitalised adult burn patients-systematic review and metanalysis. PLoS One, 9, p.e95042.
Negut, I., Grumezescu, V. and Grumezescu, A., 2018. Treatment strategies for infected wounds. Molecules, 23, p.2392.
Park, H.S., Pham, C., Paul, E., Padiglione, A., Lo, C. and Cleland, H., 2017. Early pathogenic colonisers of acute burn wounds: A retrospective review. Burns, 43, pp.1757-1765.
Pushpa, M., 2017. Bacteriological profile of wound infection and antibiotic susceptibility pattern of the isolates. Journal of Microbiology and Experimentation, 4, pp.119-122.
Reale, M., Strazzulla, A., Quirino, A., Rizzo, C., Marano, V., Postorino, M.C., Mazzitelli, M., Greco, G., Pisani, V., Costa, C., Cesana, B.M., Liberto, M.C., Torti, C. and Foca, A., 2017. Patterns of multi-drug resistant bacteria at first culture from patients admitted to a third level University hospital in Calabria from 2011 to 2014: Implications for empirical therapy and infection control. Infezioni in Medicina, 25, pp.98-107.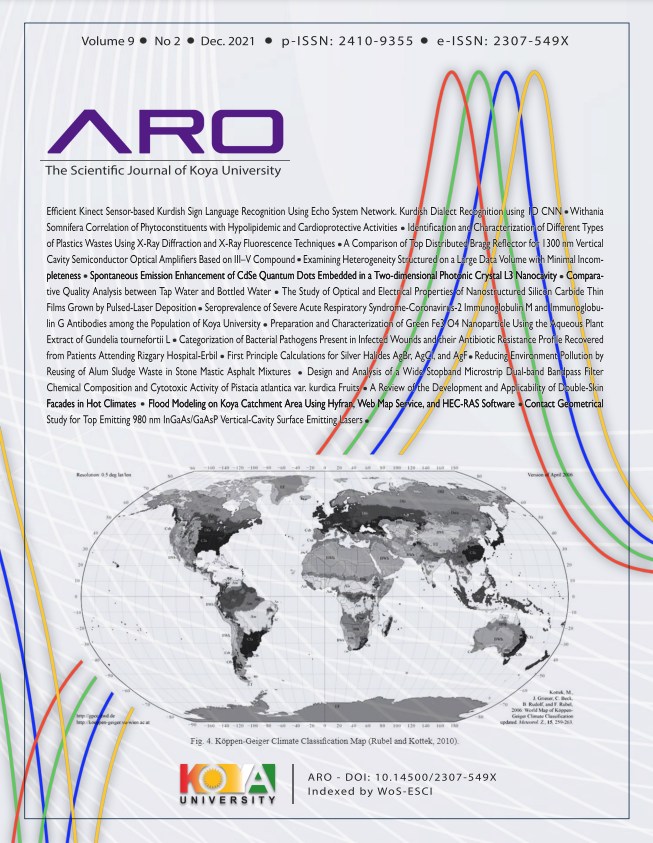 How to Cite
Al-Naqshbandi, A. A., Hassan, H. A., Chawsheen, M. A. and Abdul Qader, H. H. (2021) "Categorization of Bacterial Pathogens Present in Infected Wounds and their Antibiotic Resistance Profile Recovered from Patients Attending Rizgary Hospital-Erbil", ARO-THE SCIENTIFIC JOURNAL OF KOYA UNIVERSITY, 9(2), pp. 64-70. doi: 10.14500/aro.10864.
Copyright (c) 2021 Ahmed A. Al-Naqshbandi, Hedy A. Hassan, Mahmoud A. Chawsheen, Haval H. Abdul Qader
This work is licensed under a Creative Commons Attribution-NonCommercial-ShareAlike 4.0 International License.
Authors who publish with this journal agree to the following terms:
Authors retain copyright and grant the journal right of first publication with the work simultaneously licensed under a Creative Commons Attribution License [CC BY-NC-SA 4.0] that allows others to share the work with an acknowledgement of the work's authorship and initial publication in this journal.
Authors are able to enter into separate, additional contractual arrangements for the non-exclusive distribution of the journal's published version of the work (e.g., post it to an institutional repository or publish it in a book), with an acknowledgement of its initial publication in this journal.
Authors are permitted and encouraged to post their work online (e.g., in institutional repositories or on their website) prior to and during the submission process, as it can lead to productive exchanges, as well as earlier and greater citation of published work (See The Effect of Open Access).