In Vitro Effect of Sorghum (Sorghum bicolor) Seed Extracts as a Biological Acaricidal Against Some Hard Tick (Ixodidae) in Sulaimani Governorate - Kurdistan Region/Iraq
Bahzad H.S. Mustafa

Department of Animal Production, Faculty of Agricultural Sciences, University of Sulaimani Sulaimani, Kurdistan Region – F.R. Iraq

Kadhm A. Mohammad

Department of Agribusiness and Rural Development, Faculty of Agricultural Sciences, University of Sulaimani, Sulaimani, Kurdistan Region – F.R. Iraq

Aram O. Mahammed

Department of Agribusiness and Rural Development, Faculty of Agricultural Sciences, University of Sulaimani, Sulaimani, Kurdistan Region – F.R. Iraq
Keywords:
Boophilus spp., Hyalomma spp., Sorghum bicolor seed extract
Abstract
This study was conducted in Sulaimani governorate in order to identify the biological control of some Ixodidae genera among different flocks of cattle, sheep and goats. Four genera of Ixodidae; Boophilus spp., Hyalomma spp., Rhipicephalus spp. and Haemaphysalis spp., were identified in these infested animals. According to chi–square test, the highest distribution of Boophulis spp., was recorded in cattle (56.51%), and the highest distribution of Hyalomma spp., (49.82%) and Rhipicephalus spp., (28.16%) which were in sheep. The highest number of Haemophasylas spp., was obtained from goats (6.67%), whereas the lowest number of this genus (2.88% and 2.89%) was collected from cattle and sheep respectively. The toxicity of Sorghum bicolor seed extract was tested against the more distributed Ixodidae genera (Boophilus spp. and Hyalomma spp.) by immersion method on mature ticks, four concentrations (23.2, 17.4, 11.6 and 5.8 mg/dl), in addition to the control treatment (0 mg/dl) of the seed were used to evaluate the engorged females in vitro. The results showed that 100% of absolute cumulative mortality of Boophilus spp., was gain after 72 hr by 23.2 mg/dl extract concentration, followed by 17.4 mg/dl which gave 90% mortality, whereas 100% absolute cumulative mortality for Hyalomma spp., was obtained by 23.2 mg/dl extract concentration after 48 hr, followed by 17.4, 11.6 and 5.8 mg/dl concentration that gave 90%, 80% and 40% mortality after 72 hr.
Downloads
Download data is not yet available.
References
Abdel Shafy, S. and Zayed, A.A., 2002. In vitro acaricidal effect of plant extract of neem seed oil (Azadirachta indica) on egg, immature and adult stages of Hyalomma anatolicum excavatum (Ixodidea: Ixodidae). Vet. Parasitol, 106(1), pp.89-96.
Baars, R.M.T., 1999. The effect of rangeland fires on cattle tick infestation in western Zambia. Trop. Anim. Health. Prod., 31(5), pp.275-278.
Brown, C.G.D., Hunter, A.G. and Luckins, A.G., 1990. Diseases caused by protozoa, In: Sewell, M.M. H. and Brocklessly, D.W.(eds). Handbook of Animal Diseases in the Tropics. 4th Ed, (University Press Cambridge, U.K.).
Chagas, A.C.S., 2008. Metodologias in vitro para avaliaçao de fitoterapicos sobre parasitas e resultados de testes a campo. In: Congresso Brasileiro de Parasitologia Veterinaria, 2008, Curitiba. Anais do Congresso Brasileiro de Parasitologia Veterinaria. Curitiba: CBPV, 15, p.13.
FAO (Food and Agriculture Organization of the United Nations), 2004. Module 1. Ticks: acaricide resistance: diagnosis management and prevention. In: Guidelines Resistance Management and Integrated Parasite Control in Ruminants. FAO Animal Production and Health Division, Rome.
Farias, M.P.O., Sousa, D.P., Arruda, A.C., Arruda, M,S,P., Wanderley, A.G., Alves, L.C. and Faustino, M.A.G., 2007. In vitro effectiveness of the oil of the Carapa guianensis Aubl. (andiroba) in the control of Boophilus microplus (Acari: Ixodidae). Rev. Bras. Plantas. Med. Botucat., 9(4), pp.68–71.
Farias, M.P.O., Sousa, D.P., Arruda, A.C., Wanderley, A.G., Teixeira, W.C., Alves, L.C. and Faustino, M.A.G., 2009. Potencial acaricida do oleo de andiroba Carapa guianensis Aubl. sobre femeas adultas ingurgitadas de Anocentor nitens Neumann, 1987 e Rhipicephalus sanguineus Latreille, 1806. Arq. Bras. Med. Vet. Zootec., 61, pp.877–882.
Garcia-Garcia, J.C., Montero, C., Redondo, M., Vargas, M., Canals, M., Bone, O., Rodriquez, M., Joglar, M., Machado, H., Gonzalez, I.L., Valdes, M., Mendez, L. and de la Fuente, J.. 2000. Control of ticks resistant to immunization with Bm86 in cattle vaccinated with the recombinant antigen Bm95 isolated from the cattle tick. Boophilus microplus. Vaccine., 18(21), pp.2275-2287.
Godara, R., Parveen, S., Katoch, R., Yadav, A., Katoch, M., Khajuria, J.K., Kaur, D., Ganai, A., Verma, P.K., Khajuria, V. and Singh, N.K., 2015. Acaricidal activity of ethanolic extract of Artemisia absinthium against Hyalomma anatolicum ticks. Exp. Appl. Acarol., 65(1), pp.141-148.
Hasson, R.H., 2012. Tick distribution and infestation among sheep and cattle in Baghdad's south suburb. Kufa J. Vet. Med. Scie., 3(1), pp.77-90.
Hoogstraal, H., 1956. African Ixodidae. 1. Ticks of the Sudan. U.S. Naval Medical Research Unit No3. Cairo, Egypt.
Isman, M.B., 2008. Perspective Botanical Insecticides: for richer for poorer, Pest Management Science, 64, pp.8–11.
ISO - International organization for standardization 1997. Aromatic natural raw materials - Vocabulary: ISO 9235. Genebra, p.8.
Mbati, P.A., Hlatshwayo, M., Mtshali, M.S., Mogaswane, K.R., de Waal, T.D. and Dipeolu, O.O., 2002. Ticks and tick-borne diseases of livestock belonging to resource-poor farmers in the eastern Free State of South Africa. Exp Appl Acarol, 28(1-4), pp.217-224.
Mekonnen, S., 1996. Epidemiology of ticks and tick-borne diseases in Ethiopia: Future research needs and priorities. In: ILRI, The International Livestock Research Institute. Nairobi, Kenya, 12-13 March 1996, pp.17-29.
Minjauw, B. and Mc Leod, A., 2003. Tick-borne disease and poverty. The impact of ticks and tick-borne disease on livelihood of small –scale and marginal livestock owners in India and eastern and southern Africa. Research report, DFID Animal Health Programme. Edinburg: Center for Tropical Veterinary Medicine, University of Edinburgh, UK, pp.1-116.
Muhammed, G., Naureen, A., Firyal, S. and Saqib, M., 2008. Tick control strategies in dairy production medicine. Pak. Vet. J., 28(1), pp.43-50.
Mustafa1, B.H.S. and Faraj, S.H., 2013. Resistance of Hard Tick (Ixodidae) with some Acaricide in Cattle (Naturally Infestation) in Sulaimani Governorate Fields-Kurdistan Regional/Iraq. J. Agri. Sci. Techno., A3, pp.927-934.
Nahar, L., Anisuzzaman., Alim, M.A., Karim, M.J., Islam, K.I. and Mondal, M.M.H., 2005. In vitro acaricidal effects of some indigenous plants against Boophilus microplus (Aracnida: Ixodidae). Bangladesh.J.Vet.Med., 3(2), pp.118-123.
Nasiri, A., Telmadarraiy, Z., Vatandoost, H., Chinikar, S., Moradi, M., Oshaghi, M.A., Salim abadi, Y. and Sheikh, Z., 2010. Tick Infestation Rate of Sheep and Their Distribut ion in Abdanan County, Ilam Province, Iran, 2007- 2008. Iranian. J. Arthropod-Borne. Dis., 4(2), pp.56-60.
Okello. O.J., Tukahiriwa, E.M., Perry, D.B., Rowlands, G.J., Nagda, S.N., Musisi, G., Bode, E., Heinonen, R., Mwayi, W. and Opuda, A.J., 2003. The impact of tick control on the productivity of indigenous cattle under ranch condition in Uganda. Trop. Anim. Health. Prod., 35(3), pp.237-247.
Olivo, C.J.l; Carvalho, N.M.; Da Silva, J.H.S.; Vogel, F.F.; Massariol, P.; Meinerz ,G.; Agnolin, C.; Morel, A.F. and Viau, L.V. (2008). Oleo de citronela no controle do carrapato de bovinos, Cienc Rural. 38, pp.406–410.
Razmi, G.R.; Naghibi, A.; Aslani, M.R.; Dast jerdi, K. and Hossieni, N. 2003. An epidemiological study On Babesia infection in small ruminants in Mashhad suburb, Khorasan province, Iran. Small Ruminant Res., 50(1), pp.39-44.
Silva, W.W., Athayde, A.C.R., Rodrigues, O.G., Araujo, G.M.B., Santos, V.D., Neto, A.B.S., Coelho, M.C.O.C. and Marinho, M.L., 2007. Effects of neem (Azadirachta indica A.Juss) and lemongrass [Cymbopogoncitratus(DC)Stapf]Boophilusmicroplus and Rhipicephalus sanguineus (Acari: Ixodidae) in the semiarid region of Paraiba State, Brazil. Rev. Bras. Plant. Med. Botucatu, 9(3), pp.1–5.
Sheldrick, B.H., 1984. Analytical methods manual. Land Resource research in states Ottawa, Ontario, LRRI contribution, pp.30-84.
Steel, R.G.D., Torrie, J.H., and Dickey, D.A., 1997. Principles and procedures of statistics: A biometrical approach. 3rd ed. Hill book Co. Inc. New York, pp.400-428.
Stevenson, P. C., Dyarathna, T. K., Belmain, S. R. and Veitch, N. C., 2009. Bisdemosidic saponins Securidace longepeduncu Lata Coleaptere (Polygalaceae) with deterrent and toxic properties to storge pests, J. Agricul. F. Chemistry., 57, pp.8860-886.
Walker, A.R., Bouattour, A., Camicas, J.L., Estrada-Pena, A., Horak, I.G., Latif, A., Pegram, R.G. and Preston, P.M., 2003. Ticks of domestic animals in Africa, A guide to identification of species. Bioscience. Reports. U.K, pp.86-214.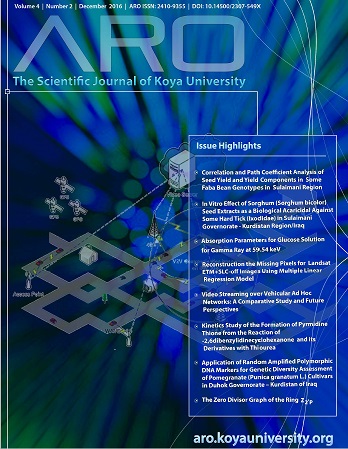 How to Cite
Mustafa, B. H., Mohammad, K. A. and Mahammed, A. O. (2016) "In Vitro Effect of Sorghum (Sorghum bicolor) Seed Extracts as a Biological Acaricidal Against Some Hard Tick (Ixodidae) in Sulaimani Governorate - Kurdistan Region/Iraq", ARO-THE SCIENTIFIC JOURNAL OF KOYA UNIVERSITY, 4(2), pp. 7-10. doi: 10.14500/aro.10065.
Copyright (c) 2016 Bahzad H.S. Mustafa, Kadhm A. Mohammad, Aram O. Mahammed
This work is licensed under a Creative Commons Attribution-NonCommercial-ShareAlike 4.0 International License.
Authors who choose to publish their work with Aro agree to the following terms:
Authors retain the copyright to their work and grant the journal the right of first publication. The work is simultaneously licensed under a Creative Commons Attribution License [CC BY-NC-SA 4.0]. This license allows others to share the work with an acknowledgement of the work's authorship and initial publication in this journal.

Authors have the freedom to enter into separate agreements for the non-exclusive distribution of the journal's published version of the work. This includes options such as posting it to an institutional repository or publishing it in a book, as long as proper acknowledgement is given to its initial publication in this journal.

Authors are encouraged to share and post their work online, including in institutional repositories or on their personal websites, both prior to and during the submission process. This practice can lead to productive exchanges and increase the visibility and citation of the published work.
By agreeing to these terms, authors acknowledge the importance of open access and the benefits it brings to the scholarly community.