Effects of Crude Plant Extracts from Five Parts of Melia azedarach on Tribolium confusum
Muzafar K. Omar

Department of Biology, Faculty of Science and Health, Koya University, Danielle Mitterrand Boulevard, Koya KOY45, Kurdistan Region – F.R. Iraq

https://orcid.org/0000-0002-6604-313X

Hanaa A. Muhammad

Department of Biology, Faculty of Science and Health, Koya University, Danielle Mitterrand Boulevard, Koya KOY45, Kurdistan Region – F.R. Iraq

https://orcid.org/0000-0002-4854-4301

Sawan M. Mirkhan

Department of Biology, Faculty of Science and Health, Koya University, Danielle Mitterrand Boulevard, Koya KOY45, Kurdistan Region – F.R. Iraq

https://orcid.org/0000-0003-3560-7438
Keywords:
Crude plant extract, Melia azedarach, Tribolium confusum, Mortality
Abstract
Tribolium confusum is one of the most common pests of many commodities, especially cereals and their products. These pests are known for being the most destructive insect pests attacking and infesting stored flour and grain in soil, warehouses, grocery stores, and homes. Therefore, this study aims to control these pests with an environmentally friendly, healthier, and cost-effective pesticide instead of the common artificial chemicals to practice the current management of cereal storage pest control in the Kurdistan Region of Iraq. For this to be achieved, the toxicity effect of crude plant extracts from five different parts of Melia azedarach in tap water with concentrations of 50%, 60%, 70%, 80%, and 90% at different times (2, 4, 6, 8, and 10 h) against stored-product insect was tested. The toxicity effect of these extracts varied based on the crude plant part extracts, concentrations, and exposure period according to the SAS system investigation on the mortality rate of T. confusum adults (Duncan test). The extracts' compatibility with treated adults of T. confusum in the clear petri dish was noted. Besides, the number of dead adults was measured by loss of motion.
Downloads
Download data is not yet available.
References
Adler, C., Ojimelukwe, P. and Tapondjou, A.L., 2000. Utilisation of phytochemicals against stored product insects. In: Adler, C., Schoeller, M. Eds. In: Proceedings of the Meeting of the OILB Working Group "Integrated Protection in Stored Products".vol. 23. IOBC/WPRS Bulletin, Berlin, Germany, pp. 169-175.
Ali, W.K. and Mohammed, H.H., 2013. Toxic effect of some plant extracts on the mortality of flour beetle Tribolium confusum (duval) (Coleoptera: Tenebrionidae). Entomology, Ornithology Herpetology, 2, p.1000115.
Al-Mehmadi, R.M. and Al-Khalaf, A.A., 2010. Larvicidal and histological effects of Melia azedarach extract on Culex quinquefasciatus say. Larvae (Diptera: Culicidae). Journal of King Saud University Science, 22, pp.77-85.
Carpinella, C.C., Defago, M.T., Valladares, G. and Palacios, S.M., 2003. Antifeedant and insecticide properties of a limonoid from Melia azedarach (Meliaceae) with potential use for pest management. Journal of Agriculture and Food Chemistry, 51, pp.369-374.
Gharsan, F., Jubara, N., Alghamdi, L., Almakady, Z. and Basndwh, E., 2018. Toxicity of five plant oils to adult Tribolium castaneum (Coleoptera: Tenebrionidae) and Oryzaephilus surinamensis (Coleoptera: Silvanidae). Florida Entomologist, 101, pp.592-596.
Hashim, M.S. and Devi, K.S., 2003. Insecticidal action of the polyphenolic rich fractions from the stem bark of Streblus asper on Dysdercus cingulatus. Fitoterapia, 74, pp.670-676.
Isman, M.B., 2006. Botanical insecticides, deterrents, and repellents in modern agriculture and an increasingly regulated world. Annual Review of Entomology, 51, pp.45-66.
Kanver, S.K., Rao, D.V. and Amla, B., 2014. Phyto-morphological overview of medicinal plant: Melia azedarach Linn. Journal of Functional and Environmental Botany, 4(1), pp.10-21.
Khambay, B.P., Beddie, D.G. and Simmonds, M.S., 2002. An insecticidal mixture of tetramethylcyclohexenedione isomers from Kunzea ambigua and Kunzea baxterii. Phytochemistry, 59, pp.69-71.
Kostyukovsky, M. and Trostanetsky, A., 2006. The effect of a new chitin synthesis inhibitor, novaluron, on various developmental stages of Tribolium castaneum (Herbst). Journal of Stored Products Research, 42, pp.136-148.
Meena, R., Suhag, P. and Prates, H.T., 2006. Evaluation of ethanolic extract of Baccharis genistelloides againt stored grain pests. Journal of Stored Products Research, 34, pp.243-249.
Mohamed, H.M., Zaitoun, A.A. and Singer, F.A., 2013. Repellent and toxicity of crude plant extracts on saw-toothed grain beetle (Oryzaephilus surinamensis) (L.). Journal of Food Agriculture and Environment, 11, pp.381-384.
Muhammad, H.H., 2008. Toxicity effect of four plants extracts against the oak leaf cut worm Euproctis melania staud. (Lymantriidae: Lepidoptera) Zanko. Zanco Journal of Pure and Applied Sciences, 20, pp.83-88.
Nathan, S.S., Kalaivani, K., Murugan, K. and Chung, P.G., 2005. The toxicity and physiological effect of neem limonoids on Cnaphalocrocis medinalis (Guene'e), the rice leaffolder. Pesticide Biochemistry and Physiology, 81, pp.113-122.
Negahban, M., Moharramipour, S. and Sefidkon, F., 2007. Fumigant toxicity of essential oil from Artemisia sieberi Besser against three stored-product insects. Journal of Stored Products Research, 43(2), pp.123-128.
Rajendran, S., 2002. Postharvest pest losses. In: Pimentel, D., Ed. Encyclopedia of Pest Management. Marcel Dekker, Inc., New York. pp.654-656.
Sahaf, B.Z., Moharramipour, S. and Meshkatalsadat, M.H., 2008. Fumigant toxicity of essential oil from Vitex pseudo-negundo against Tribolium castaneum (Herbst) and Sitophilus oryzae (L). Journal of Asia Pacific Entomology, 11, pp.175-179.
Soomro, F.D. and Sultana, R., 2018. Incidence of darkling beetles (Coleoptera: Tenebrionidae) from lower Sindh Tando Jam Hyderabad. Journal of Entomology and Zoology Studies, 6, 2560-2562.
Stejskal, V., Hubert, J., Aulicky, R. and Kucerova, Z., 2015. Overview of present and past and pest-associated risks in stored food and feed products: European perspective. Journal of Stored Products Research, 64(Part B), pp.122-132.
Weaver, D.K. and Subramanyam, B., 2000. Botanicals. In: Subramanyam, B. and Hagstrum, D.W. Eds. Alternatives to Pesticides in Stored-product IPM. Kluwer Academic Publishers, Massachusetts, United States of America. pp.303-320.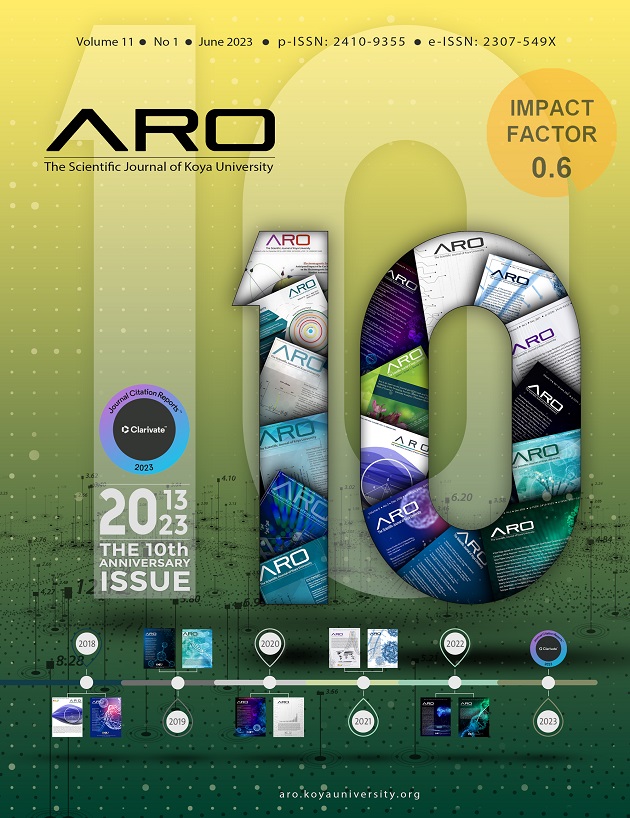 How to Cite
Omar, M. K., Muhammad, H. A. and Mirkhan, S. M. (2023) "Effects of Crude Plant Extracts from Five Parts of Melia azedarach on Tribolium confusum", ARO-THE SCIENTIFIC JOURNAL OF KOYA UNIVERSITY, 11(1), pp. 48-51. doi: 10.14500/aro.11038.
Copyright (c) 2023 Muzafar K. Omar, Hanaa A. Muhammad, Sawan M. Mirkhan
This work is licensed under a Creative Commons Attribution-NonCommercial-ShareAlike 4.0 International License.
Authors who choose to publish their work with Aro agree to the following terms:
Authors retain the copyright to their work and grant the journal the right of first publication. The work is simultaneously licensed under a Creative Commons Attribution License [CC BY-NC-SA 4.0]. This license allows others to share the work with an acknowledgement of the work's authorship and initial publication in this journal.

Authors have the freedom to enter into separate agreements for the non-exclusive distribution of the journal's published version of the work. This includes options such as posting it to an institutional repository or publishing it in a book, as long as proper acknowledgement is given to its initial publication in this journal.

Authors are encouraged to share and post their work online, including in institutional repositories or on their personal websites, both prior to and during the submission process. This practice can lead to productive exchanges and increase the visibility and citation of the published work.
By agreeing to these terms, authors acknowledge the importance of open access and the benefits it brings to the scholarly community.